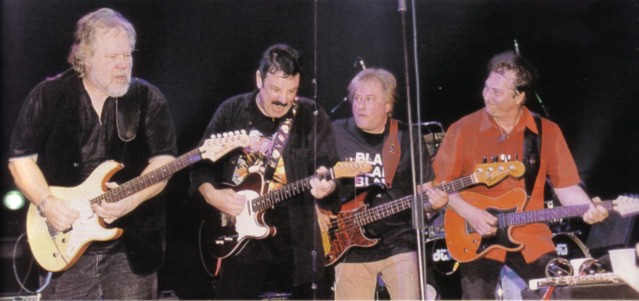 One of Canada's most successful bands is enjoying a new vogue -- and hitting the road once again
On an early May afternoon, on the eastern outskirts of Winnipeg, a spring ritual is under way. Like bears emerging from hibernation, some grey-haired men step out to play their first round of golf of the year. Teeing off under a warm sun, the golfers are oblivious to another ritual taking place nearby. Inside the Transcona Country Club, members of the Canadian rock legend the Guess Who are running through the familiar chords of such classic songs as Undun and American Woman. The original lineup of the group -- middle-aged and reunited for the first time in 17 years for a national tour that opens this week -- is being put through its paces by singer Burton Cummings. "Keep it lazy," he shouts, as the band starts to speed its way through the ballad These Eyes. "Don't rush it." Rain Dance, with its thumping tribal drums and counterpoint vocals, is better. But by the time the band croaks its way through the four-part harmony of Laughing, Cummings becomes exasperated. "OK, that's it for the day," he barks. "Go home -- I don't care if you have to take sleeping pills -- just get some sleep. We need everybody's voices tomorrow."
Later, over a soft drink, the perspiring singer concedes that a couple of band members, including guitarist Randy Bachman, are fighting viruses that have affected their voices. Yet he made no apologies for cracking the whip in rehearsal. "The end will justify the means," says Cummings. "There's no way we're going to disappoint with this tour -- we'll be better than people even remember."
Can the reborn Guess Who deliver? The answer will become apparent when the tour starts in St. John's, Nfld., on May 31 -- it winds up in Craven, Sask., on July 15. But make no mistake: the band is already back, bay-bee. Think Austin Powers and The Spy Who Shagged Me, which turned Lenny Kravitz's cover of the Guess Who's anthem-like American Woman into an international hit. Think American Beauty, the Oscar-sweeping film that used the original American Woman in its sound track. Suddenly, the band, one of the most successful acts of the 1960s and '70s, seemed cool again.
Then last fall, Manitoba Premier Gary Filmon personally summoned the group to perform at the closing ceremonies of Winnipeg's Pan-Am Games. Although the quartet -- Cummings, 52, Bachman, 56, bassist Jim Kale, 56, and drummer Garry Peterson, who turns 55 on May 26 -- played only four songs, they were embraced as returning home-town heroes, and the seed was planted for a full-scale reunion. Tickets for the tour, which had a sneak preview last week with an intimate performance in a Winnipeg community centre, have been selling fast. Says Larry LeBlanc, Canadian editor for Billboard magazine: "People sense that it may be their last chance to see this piece of Canadian music history in the flesh."
That history has been as fractious as it has been celebrated. Ever since Bachman and Cummings first clashed in the late-1960s over lifestyle preferences (Bachman became a devout Mormon, while Cummings remained a resolute party animal), there have been tensions and issues surrounding the group. Bachman left in 1970, just as the band was hitting the big time, and moved on to even greater heights with his group Bachman-Turner Overdrive. Cummings kept the Guess Who going -- and the hits coming -- through various incarnations until 1975, when he embarked on a successful solo career. But the two left a trail of jealousy, resentment and lawsuits over publishing royalties in their wake. To make matters worse, Kale and Peterson continued touring as the Guess Who (Kale had assumed ownership of the name) with various Bachman and Cummings clones on guitar and vocals, much to their old band mates' chagrin. (Late last week, Kale was forced to bow out of the tour because of "family problems," according to the band's manager, Lorne Saifer, a Winnipeg-born impresario now based in Los Angeles. Onetime Guess Who member Bill Wallace will replace Kale.)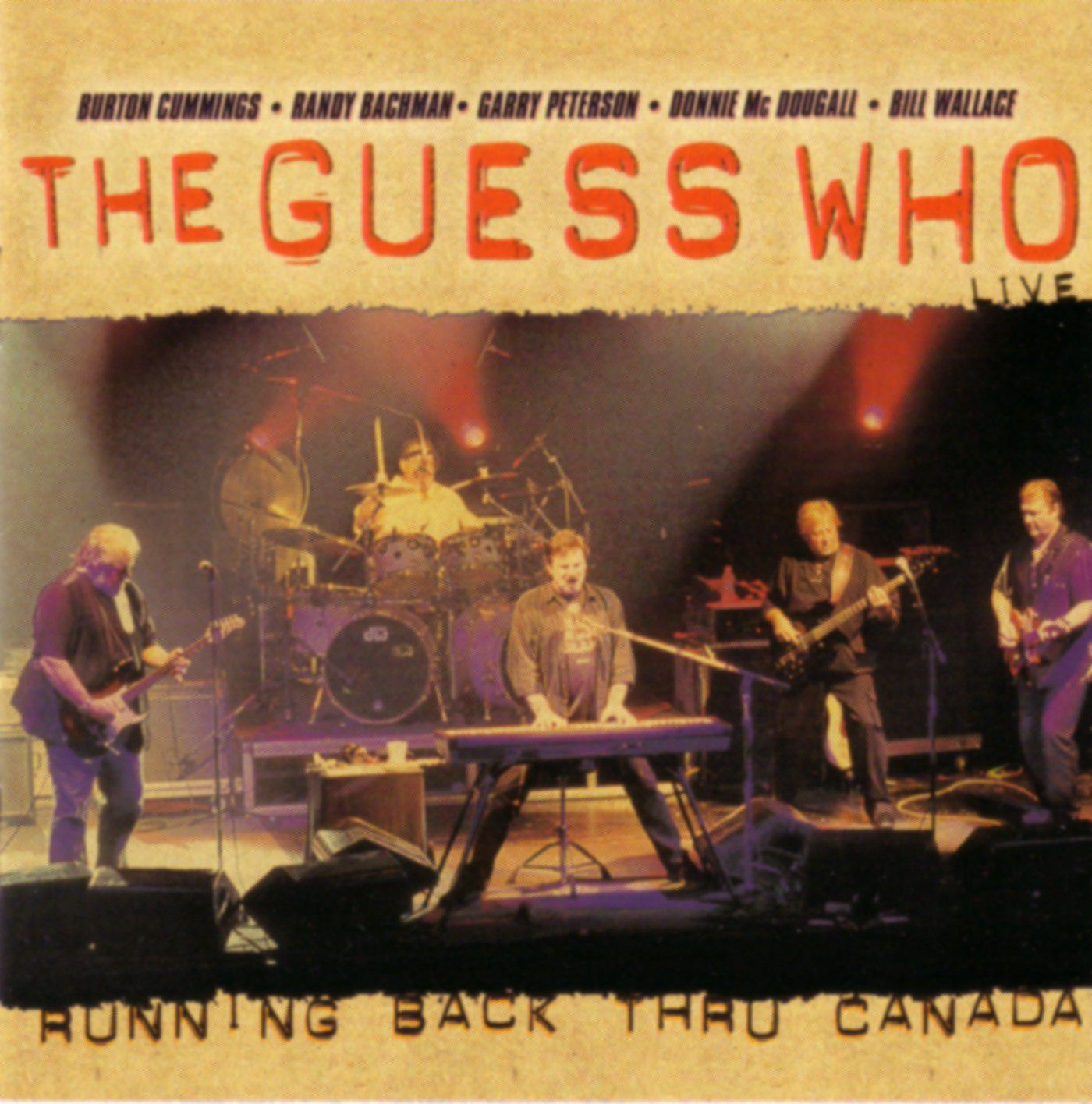 But time -- and money -- can heal all wounds. And the Running Back Through Canada Tour, which is being recorded and filmed for CD and video release, is clearly a curative and lucrative undertaking. In separate interviews with the band members (another onetime Guess Who member, guitarist Donny McDougall, is also part of the tour), each musician repeated the phrase "healing process" to describe the reunion, as if the term was some kind of soul-soothing mantra. "It's a chance for the group to tie up unfinished business," says John Einarson, a Winnipeg schoolteacher who has written a book on the Guess Who. "This is the 1970 American Woman tour that Randy never took part in. It's an opportunity for the band to relive it's greatest hurrah." Added Einarson: "If Bachman and Cummings are the Lennon and McCartney of Canadian music, then this tour is every bit as significant to Canada as a Beatles reunion."
That may be stretching things, but as the Guess Who ran through its hits at the country-club retreat earlier this month, the band's legacy as a Can-rock behemoth was on full display. Cummings, a dynamic rock singer-pianist who rivals Elton John, is still in fine vocal form, while Bachman, Kale, Peterson and McDougall made old favourites like These Eyes, recently updated by Canadian rapper Maestro, No Time and American Woman sound as fresh and feisty as the day they were recorded. In a nod to Bachman's post-Guess Who success, BTO hits like Let It Ride and Lookin' Out for No.1 are also being included in the show, but in stripped-down acoustic form. "I'm glad I saw the recent Crosby, Stills, Nash and Young tour," says Cummings, "because it gave me the idea of how to structure our shows. We begin by rocking out and then switch to an acoustic set, where we're going to try and create a coffeehouse atmosphere. Then it's pretty well rock 'n' roll from then on out. Each section should take the fans a little further up the staircase."
Like CSNY and the Eagles before them, Bachman, Cummings, Wallace and Peterson know that some cynics will see their reunion as a cash grab by another four fat, greying rock stars who simply want to top up their retirement fund. The band members, of course, see it quite differently. "I don't feel like I'm cashing in on anything," says Bachman, a father of seven who lives with his second wife, former singer Denise McCann, and their 16-year-old daughter on British Columbia's Saltspring Island (his son, Tal Bachman, is currently enjoying a successful pop career of his own, buoyed by the hit She's So High). "I'm celebrating the hits I've had throughout my career, both with this band and with BTO." He added: "Timing is everything. If we had done this 10 years ago, it might have felt tacky. The world wasn't ready for classic rock. But now, with Neil Young and Santana's comeback, there's absolutely nothing tacky about this. It just feels right."
Cummings agrees. "Most reunions are lame," says the singer, who owns homes in Los Angeles and Victoria, and recently bought another in Winnipeg, where he has been spending more time. He is separated from his wife, Cheryl DeLuca. "One or two guys have overdosed, a couple of members have become accountants or truck drivers and then they try to get back together and pick up their instruments and it simply doesn't work. In our case, we're all still alive and we've stayed involved in music and continued playing many of these songs over the years. So it's totally valid."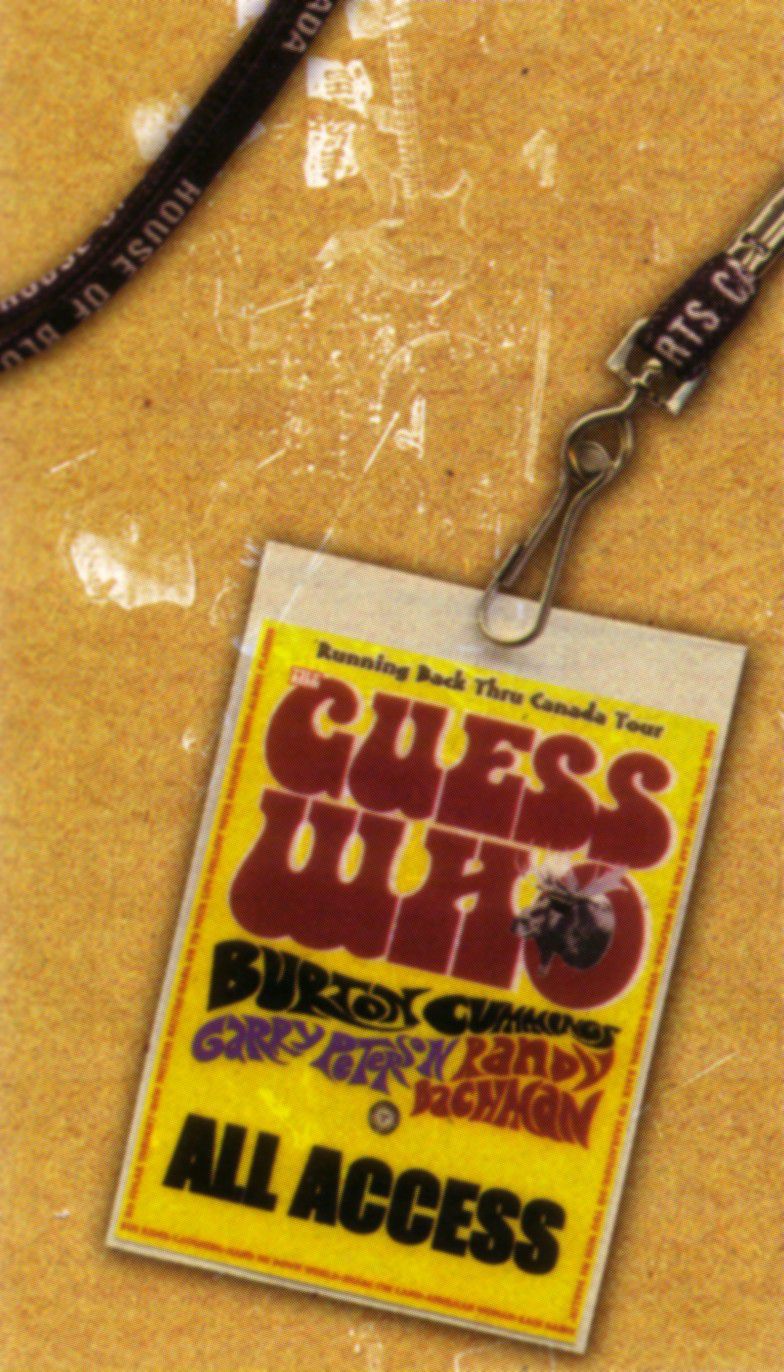 They admit, however, that their 1983 reunion tour was a mistake. Lured by the offer of big money, they undertook seven Canadian concerts despite lingering disputes within the group. "We weren't very friendly on that tour," recalls Cummings. "There were some nights when the vibe was really awful. Not actual fistfights, but terrible arguments." Added Bachman: "We still had baggage and bones to pick, so the tour imploded halfway through. This time, it's all about the music, the songs and recapturing the old magic."
The magic was first kindled 35 years ago in the community centres sprinkled throughout Winnipeg. There, in the wake of the "British invasion," teenage boys traded hockey sticks for guitars and began forming rock bands that played on Friday and Saturday nights. Toronto's Neil Young, then living in Winnipeg with his mother, had a group called the Squires. But Bachman, Kale and Peterson, as members of Chad Allan & the Expressions, were the first to score a hit when their frenzied recording of Shakin' All Over topped the charts across Canada in 1965 and went on to sell two million copies worldwide. When Allan left the following year, Bachman quickly recruited Cummings, then a wild, screaming singer with the group the Devrons. Recalls Bachman: "He had an incredibly strong voice and had once desecrated a piano at the Winnipeg Arena while opening for some British band. We needed his kind of sassy, cheeky attitude."
After an abortive trip to England, the Guess Who came to the attention of Toronto producer Jack Richardson, who saw the group perform on the CBC program Let's Go. So impressed was Richardson that he mortgaged his home to finance the recording of the 1969 album Wheatfield Soul, its title a reference to the band's so-called Prairie sound. After the album's first single, These Eyes, topped the charts, the band never looked back. The next album, Canned Wheat, contained three more Bachman-Cummings hits, including Laughing, No Time and Undun. But it wasn't until 1970's American Woman that the Guess Who achieved pop supremacy. The fuzz-guitar-drenched title track shot to No. 1 in the United States, where it unseated the Beatles for three straight weeks. The hits kept coming: No Sugar Tonight, Albert Flasher, Share the Land, Rain Dance and Clap for the Wolfman.
According to Billboard's LeBlanc, the band opened countless doors for the many Canadian acts that followed, including Lighthouse, Motherlode, the Poppy Family and Five Man Electrical Band. "They were small-town guys who became stars from coast to coast without a national touring circuit," says LeBlanc. "And even after they became known internationally, they essentially remained small-town guys, always rooted in their community. In that respect, they were quintessentially Canadian." Jeff Bishop, whose family owns Winnipeg's Sound Exchange record store, agrees. "They gave us an identity," says Bishop, who is currently turning the entire Portage Avenue store into a Guess Who shrine, complete with photos, albums and rare memorabilia, as a display of civic pride leading up to the group's June 30 concert there. "I was born in 1967, and my whole life has had a sound track supplied by the Guess Who. Those songs tell us something about who we are."
That was certainly the case for the three young members of the band Wide Mouth Mason, who grew up in Saskatoon. Cummings says that when he met the group at last year's inaugural Prairie Music Awards, where the Guess Who was inducted into the Prairie Music Hall of Fame, Wide Mouth Mason's Shaun Verreault told him how much Cummings' song Running Back to Saskatoon meant to him. "We're all Prairie boys, born and raised," says Cummings. "We have that remote feeling in the winter and that all enters into the way we play and write. The guys in Wide Mouth Mason share that with us. They, too, have wheatfield soul." Which is why, after jamming late into the wee hours with the trio at a Toronto bar, following an appearance at the Farm Aid benefit this spring, Cummings broached the possibility of the band opening for the Guess Who on its summer tour.
As the golf balls fly outside the Transcona Country Club, the members of the Guess Who and the crew try to concentrate on getting themselves ready for the tour. Aside from rehearsals, arrangements are still being made for sound equipment, accommodation and merchandise in each of the tour's two-dozen venues. Manager Saifer seems to have a cellular phone surgically attached to his head. "When you see these guys onstage," he's raving to someone on the phone, "it's almost like time has been turned back." Bachman, overhearing the comment, nods his head. "It's true," says Bachman, who describes the Pan-Am experience as something akin to Viagra. "After that, I felt 25 again, that I could conquer the world, go on the road forever and play guitar 24 hours a day and never sleep. The other guys felt that, too." He adds: "A few years ago, Neil Young told me that the minute we stop doing this, we're not living our lives as they were intended. And he was right. This is what we were born to do."
Maclean's May 29th 2000