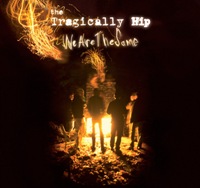 The Tragically Hip holds a special place in Canadian culture. Like hockey or the Group of Seven, the band has earned an enviable mythic status. Maybe it has to do with the group's famously raucous performances or its proud embrace of the Great White North in songs like "Bobcaygeon" or "Fifty Mission Cap." Whatever the reason, the Hip stands as Canada's quintessential rock band. Two of it members are actually named Gord—which is about as Canadian as you can get.
Since forming in Kingston, Ontario in 1986, the Hip has built a rabid fan base by mixing inspired poetry with compelling rock grooves. Along the way, the band has earned 14 Juno Awards, a Governor General's Performing Arts Award and inductions into the Canadian Music Hall of Fame and Canada's Walk of Fame. After 26 years of touring, most middle-aged rockers might think about kicking back. Not the Hip, which has just released a thrilling new studio album and will soon, once again, hit the road.
We Are the Same was produced by Bob Rock, who brought a similarly melodic, radio-friendly approach to the Hip's last album, World Container. Here, he and the Hip combine to create feel-good campfire numbers like "Morning Moon," gorgeous love songs like "Honey, Please" and such stirring stadium anthems as "Country Day." On one of the album's best songs, "The Last Recluse," singer Gord Downie even rhymes "Canada goose" with "recluse," proving that the Tragically Hip has lost none of its beloved northern appeal.
April 2009