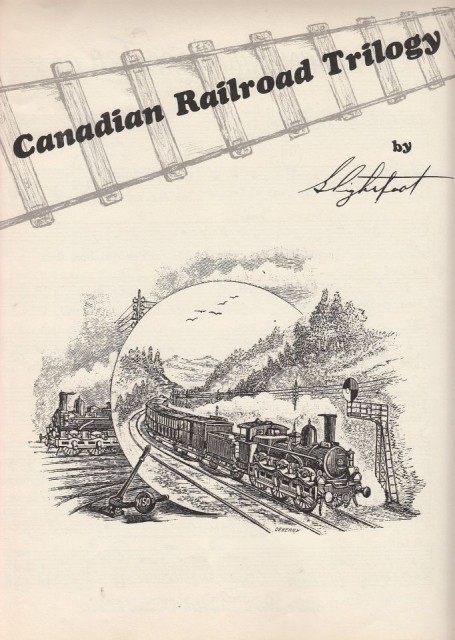 It is the most patriotic of all his songs, a three-part epic that recounts the construction of a nation-spanning railway, describes the stark beauty of a country's landscape and tells of the human toil it took to build the "iron road runnin' from the sea to the sea." And yet Gordon Lightfoot's "Canadian Railroad Trilogy" managed to resonate with listeners on both sides of the 49th parallel when it was released 50 years ago.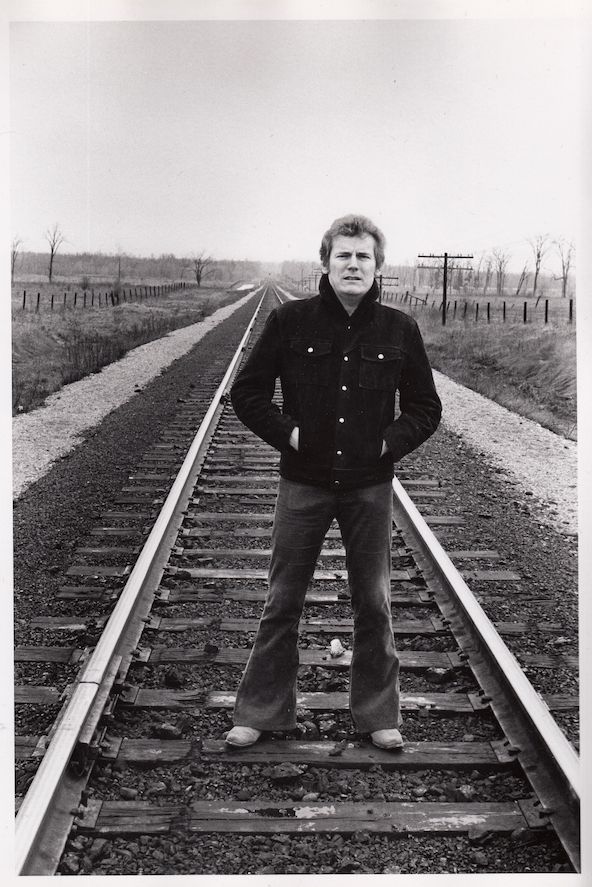 Appearing on Lightfoot's 1967 album The Way I Feel, the "Trilogy" was instantly embraced by Canadians already deep into celebrating their country's 100th anniversary. But Americans somehow connected with the song as well. When Lightfoot launched into the robust ballad the following year at the Fillmore West, San Francisco's hippie ballroom, the audience applauded on hearing the opening line.
U.S. musicians also adopted the six-and-a-half-minute number. "An extremely fine piece of songwriting," declared Johnny Cash, a sentiment shared by Nashville's George Hamilton IV, who recorded his own version of the song in 1969. Steve Earle, meanwhile, learned to play it as an aspiring folkie in his hometown in Texas, despite its foreign subject matter. "You couldn't find anything less relevant in San Antonio," said Earle, "but I just thought it was cool."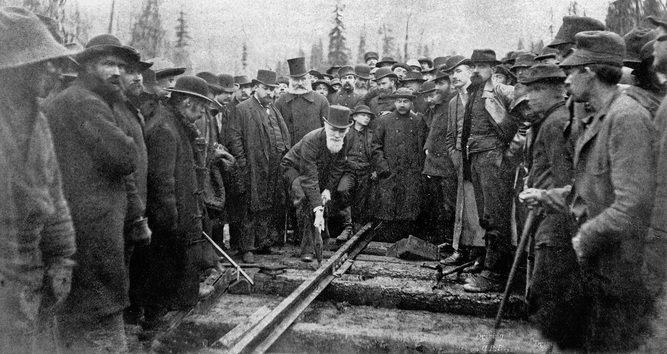 Lightfoot had been commissioned to write the song by Bob Jarvis, a CBC producer already aware of the musician's penchant for train songs like "Steel Rail Blues" and "Talkin' Freight." Jarvis told Lightfoot that he was looking for a big folk ballad that captured all the grandeur of Canada's birth for a TV special celebrating the country's centennial. He sent the songwriter to the CBC's library to get out a book on William Cornelius Van Horne, the architect of the first Canadian transcontinental railway. Lightfoot went home to his writing room at 94 Farnham Avenue and began reading. Soon, the ideas were flowing. As Lightfoot recounted:
I started with a ballad, reaching back to an old barbershop tune I used to do called "The Rose of Tralee." I put that to work in the slow part and found this word navvies, which were the railway workers, in the book on Van Horne. I started listening to Bob Gibson's "Civil War Trilogy" and decided to use his format—fast going in, slow in the middle, fast going out. And it came to me. Got into a great key. Open F chord. Same way I'd written "Early Morning Rain," but very few others. I stayed up all night working on it, right up until nine or ten in the morning. Then sleep and pile right back into it. Coffee, cigarettes—nothing else. No booze at that point. The song was done in three days.
With the lead sheet for the song in his guitar case, Lightfoot drove down to Jarvis's office at the corner of Yonge and Gerrard, walked in, sat down at his desk and played him "Canadian Railroad Trilogy," all six minutes of it. "He listened to the whole thing," says Lightfoot, "and when I was done, he said, 'Well, Gordon, I'm impressed.' That's what he said. He told me they'd get Ron Collier to orchestrate it and asked if that would be okay. I said, 'That sounds wonderful.'" It was indeed an impressive achievement. Lightfoot had captured the rugged beauty of the land before European settlement with its "wild majestic mountains" and forests "too silent to be real." And he'd distilled the grinding toil it took to build the "iron road running from the sea to the sea" into a moving musical history lesson.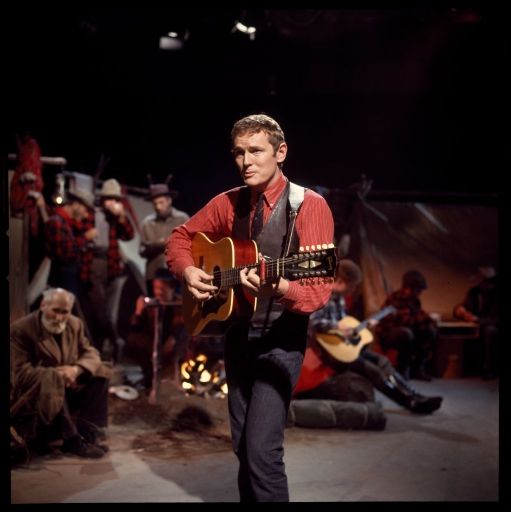 On New Year's Day 1967, Lightfoot appeared on national television in the CBC special 100 Years Young, kicking off Canada's centennial. Although there were other performers, including singer Juliette and comedians Wayne and Shuster, Rich Little, and Don Harron playing Charlie Farquharson, it was "Canadian Railroad Trilogy" that stole the show.
Standing tall in a red shirt, black tie and leather vest, Lightfoot sang about "a time in this fair land when the railroad did not run." While actors dressed as navvies swung hammers around him, he pumped out the tune on his twelve-string guitar, picking up steam in the faster sections:
Oh the song of the future has been sung
All the battles have been won
On the mountaintops we stand
All the world at our command
We have opened up the soil
With our teardrops and our toil
It was a stagey recreation of nation-building and the railway's construction; Lightfoot likes to point out that the actors' hammers were actually made of papier–mâché. But he knew he'd struck a nationalistic nerve. Years later, Lightfoot received high praise from historian Pierre Berton, author of The Last Spike, who told him, "You did more good with your damn song than I did with my entire book on the same subject."
Watch Lightfoot sing "Trilogy" 1967 on CBC
Watch Lightfoot sing "Trilogy" 1972 on BBC
The "Trilogy" would grow to become a standard and one of the country's most powerful pieces of Canadiana. And its appeal has traveled all around the world, reaching even British royalty. When Lightfoot met Queen Elizabeth at the Canada Day celebrations in Ottawa in 1992, the monarch told him how much she loved "Canadian Railroad Trilogy." Recalled Lightfoot: "She looked at me and said, 'Oh, that song,' and then said again, 'that song,' and that was all she said."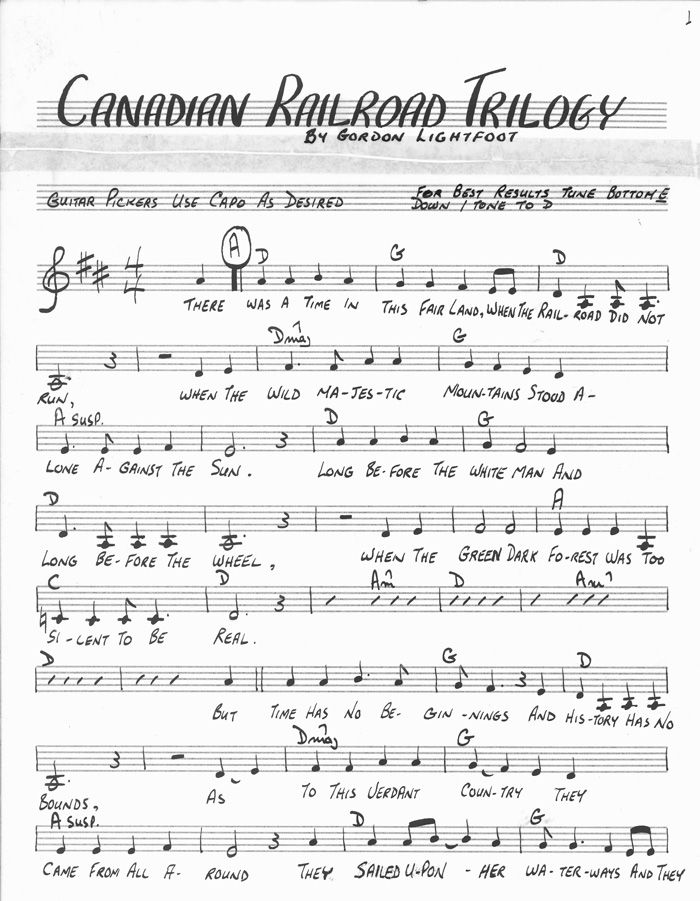 Adapted from Lightfoot by Nicholas Jennings. Copyright © 2017 Nicholas Jennings. Published by Viking, an imprint of Penguin Canada, a division of Penguin Random House Canada Limited. Photographs used are courtesy of Gordon Lightfoot unless otherwise stated. All rights reserved.