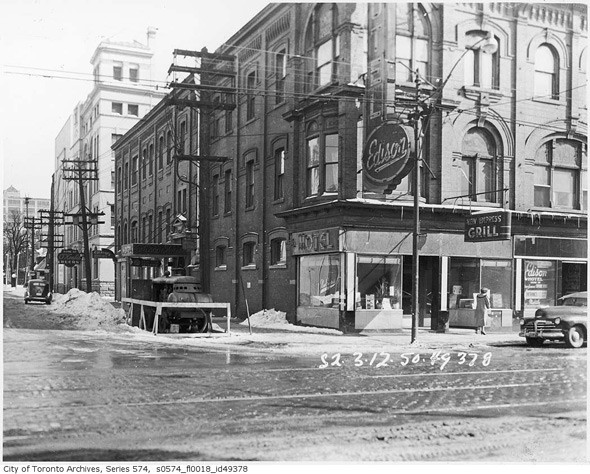 From Heritage Toronto
335 Yonge Street (The Empress Hotel) Destroyed by Fire
January 4, 2011 - 12:30pm
How can we better protect our heritage?
The Empress Hotel at 335 Yonge Street was destroyed yesterday in an early morning fire. Located on the southeast corner of Yonge Street and Gould Street, the Empress Hotel (1888) is a three-storey commercial building. The property was included on the City of Toronto's Inventory of Heritage Properties in 1974, and was designated last year under the Ontario Heritage Act in response to a demolition application.
From the Intent to Designate Report: "The Empress Hotel has design value as a well-crafted example of a late 19th century commercial building that blends elements of the popular Second Empire and Romanesque Revival styles of the era. The distinctive corner tower with a classically detailed mansard roof from Second Empire styling is combined with the monumental round-arched openings that typify the Romanesque Revival style in a carefully crafted composition designed to enhance the presence of the building on Toronto's most prominent commercial street.
Contextually, the Empress Hotel is a local landmark on the southeast corner of Yonge Street and
Gould Street, where it is the only surviving 19th century commercial building along the east side of Yonge Street in the block between Dundas Street East and Gould Street. With its position on a corner lot and visible tower, the Empress Hotel stands as a reminder of the grandeur of Yonge Street as it developed in the late 19th and early 20th centuries as Toronto's "main street."
Not commonly known is the building's cultural significance to Toronto's music scene. According to music historian Nicholas Jennings, as the Edison Hotel the building presented top entertainment through the 1950s and '60s, as part of an entertainment circuit on the Yonge Street Strip that included such venues as Le Coq D'Or (333 Yonge, now HMV) and Friar's Tavern (283 Yonge, now Hard Rock Cafe).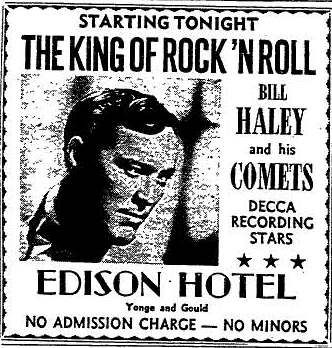 The Edison featured such legendary performers as Bill Haley, Bo Diddley, Carl Perkins, the Everly Brothers and Cab Calloway over the years. Quite apart from the building's impressive architectural value, the site played a significant role in the history of live entertainment in Toronto, as one of the city's top venues.
In order for other heritage buildings such as the Empress Hotel to not disappear in future:
More resources need to be provided to ensure that property standards for
heritage properties are enforced;
More staffing must be allocated to the monitoring and inspection of
buildings on the City of Toronto Inventory of Heritage Properties;
There must be a larger grant program to support the restoration and
maintenance of heritage properties;
Most importantly, the City's Inventory of Heritage Properties must
be complete to ensure that we have identified our heritage resources and can
pro-actively protect and care for them.
Ultimately, of course, the responsibility to properly preserve and ensure the safe condition of heritage buildings rests with the building owners.
Photos courtesy of Nicholas Jennings