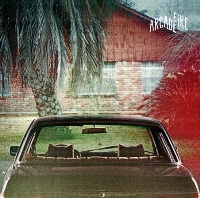 Few indie rock bands have made as big an impact as Arcade Fire. The Montreal collective burst on to the scene with stirring strings and bracing brass. Its concerts, ecstatic performances that resembled emotionally charged, church-based gospel, attracted a fervent following with celebrity fans like David Byrne and David Bowie. The group's first two anthemic CDs, the best-selling
Funeral
and
Neon Bible
, topped year-end polls.
    Now Arcade Fire, led by Win Butler and his wife Régine Cassagne, has released its third CD, a provocative concept album about suburbia. Arcade Fire knows of where it speaks. Win grew up in the suburbs of Houston, before settling in Montreal and marrying Régine, the daughter of Haitian refugees. He and his Canadian bandmates revisited their respective suburban pasts before recording the new album, discovering how much those worlds had changed.    
The Suburbs
opens with the laid-back, Neil Young-like title track, which speaks of houses "built in the '70s" falling down. "I want a daughter while I'm still young," Win sings, "I wanna hold her hand, and show her some beauty before this damage is done." "Wasted Hours," "Suburban War" and the guitar-driven "City With No Children" deal with lost time, lost friends and long car rides. On the synth-laden "Sprawl," Régine sings of how "dead shopping malls rise like mountains beyond mountains." As a portrait of innocence lost and fading roots,
The Suburbs
is brave, beautiful and at times bleak. It's also Arcade Fire's best album and most fully realized statement to date.