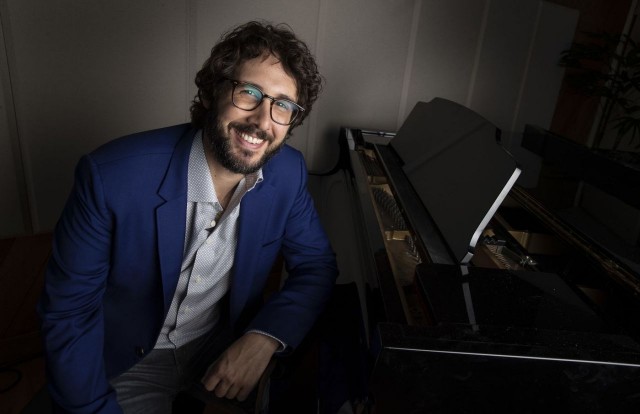 Josh Groban can turn heads with his soaring voice. But the bearded and boyish 37-year-old music Grammy nominee still goes largely unnoticed in public. That is bound to change as his TV and film appearances become more frequent and higher profile. This summer, Groban hosted the Tony Awards and is currently starring in the Netflix comedy-drama series The Good Cop, in which he plays the squeaky clean son of a corrupt police officer. Recently, we sat down with the versatile L.A.-born star to talk about his thriving career, Canadian connections and Bridges, his first album of original music in five years.
What is it with you and Canada? You've co-written with so many Canadians, from Chantal Kreviazuk to Rufus Wainwright—you should be an honorary citizen! It goes back many years, to David Foster, who first signed me. I've also written with Tawgs Salter and Bernie Herms. Plus Sarah McLachlan, who I've toured with, sings on my new album. I've got to say, talented Canadians are a huge reason why I've had 20 years in the business.
And you've always had a good reception here. It's always been very lovely here, I've always been welcomed here, I've always had great shows here and just from day one, outside from America, it's always felt like a place that has gotten me and gotten what I do.
Between TV, film and music projects, it seems you've never been busier. I guess it's a good problem to have. It's nice to be offered things. I'm so grateful that I'm at a point in my career where I'm getting opportunities to show lots of different sides of where I want to be creatively.
Like The Good Cop. To get a call out of nowhere to put the music aside for four months to take on ten episodes of a witty and fun family friendly cop drama. I fell in love with the pilot, just dove right in. Learned so much and had a great time working with the cast.
What appealed to you about it? I get to play TJ, who is sort of pathologically honest and a kind of neurotic opposite to his father, Tony Sr., played by Tony Danza. From an acting perspective, it was a wonderful 180 degrees, coming off of Broadway (in Natasha, Pierre & The Great Comet of 1812) playing an overweight, drunken, screaming Russian to playing a goodie two shoes cop. I liked the opportunity to stretch that way and do something totally different.
You described making your last album, Stages (a collection of Josh's favorite Broadway show tunes), as being intimidating. Yes, because when you're interpreting songs people have heard a million times, there is a certain reverence, certain expectation and pressure to do them justice. Tapping into those songs was something I didn't take lightly and I put a lot of energy into it.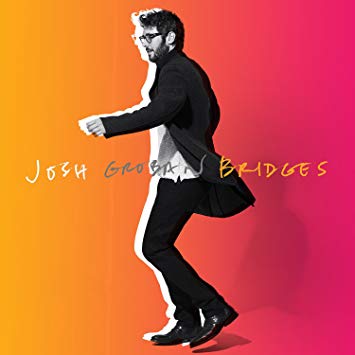 Compare that with Bridges. A different kind of terror (laughs). When you're writing your own songs, there's the scariness of vulnerability, of sharing your own music, your own story, your own life.
Can you give examples of some of the new album's more personal songs? A song like "River" is really my first foray into my battles with anxiety and depression throughout the course of my life and what the small ways are that you can break out of those patterns and the bravery it takes sometimes to make the smallest gestures to reach out for support and help. "Bigger Than Us" and "Granted" are both really about, especially for young people, having the courage to share your truest voice.
Your charitable work involves young people. I work with them through my foundation Find Your Light and also through a program called Turnaround Arts, which is one of Michelle Obama's arts initiatives. These kids are using the power of their voices and their energy to do something about the gun violence epidemic that we have in my country. I'm inspired by them. It's a time for people to share their voices.
On your album you also sing a few covers, including Paul Simon's "Bridge Over Troubled Waters." I've been singing it on stage for 15 years, and I wanted to record it now because I felt it was a song I desperately needed to hear myself right now. It's a song that's bigger than us and expresses how it feels to be spinning in this anxious and divisive world we're all living in at the moment.
Do you ever see yourself doing anything than singing, songwriting or acting, in a creative sense? I can't dance. I enjoy hosting on television. I enjoy everything I feel I'm good at and have not really been interested in the things that I don't think I'm that good at.
What about screenwriting? That's my brother's bag. Chris is a film major from college. He writes and directs.
And aren't you going out with a screenwriter, Schuyler Helford? Yes I am. And Schuyler's wonderful at it. But I don't think she would have an interest in sitting down and writing twelve songs for an album. And I don't have the pull to sit down and write a screenplay. I simply wouldn't know where to begin!