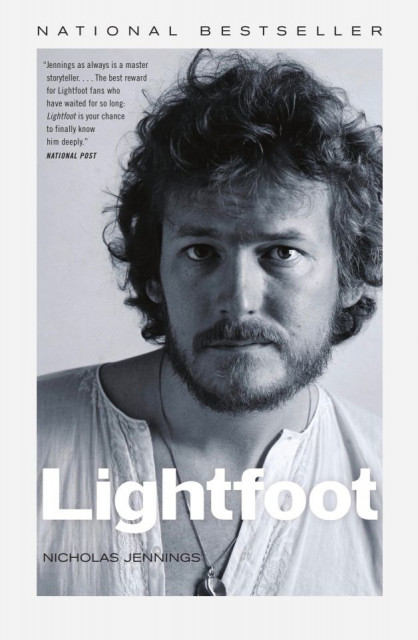 Details:
Author: Nicholas Jennings; Hardciover/Paperback: 327 pages; Publisher: Penguin Random House; 2017/2018; Language: English; ISBN: 978-0-14-319920-5
Book Description from Amazon
The definitive, full-access story of the life and songs of Canada's legendary troubadour
Gordon Lightfoot's name is synonymous with timeless songs about trains and shipwrecks, rivers and highways, lovers and loneliness. His music defined the folk-pop sound of the 1960s and '70s, topped charts and sold millions. He is unquestionably Canada's greatest songwriter, and an international star who has performed on the world's biggest stages.

While Lightfoot's songs are well known, the man behind them is elusive. He's never allowed his life to be chronicled in a book—until now.

Biographer Nicholas Jennings has had unprecedented access to the notoriously reticent musician. Lightfoot takes us deep inside the artist's world, from his idyllic childhood in Orillia, the wild sixties, and his canoe trips into Canada's North to his heady times atop the music world. Jennings explores the toll that success took on his personal life—including his troubled relationships, his battle with alcohol and his near-death experiences—and the extraordinary drive and tenacity that pulled him through it all.

Rich in voices from fellow musicians, close friends, Lightfoot's family and the singer's own reminiscences, the biography tells the stories behind some of his best-known love songs, including "Beautiful" and "Song for a Winter's Night," as well as the infidelity and divorce that resulted in classics like "Sundown" and "If You Could Read My Mind." Kris Kristofferson has called Lightfoot's songs "some of the most beautiful and lasting music of our time."

Lightfoot is an unforgettable portrait of a treasured singer-songwriter, an artist whose work has been covered by everyone from Joni Mitchell, Barbra Streisand and Nico to Bob Dylan, Elvis Presley and Gord Downie. Revealing and insightful, Lightfoot is both an inspiring story of redemption and an exhilarating read.
Shortlisted for the 2017 Legislative Assembly of Ontario Speaker's Book Award
Nominated for the 2018 Heritage Toronto Award - Historical Writing: Book
One of CBC Books' "20 works of Canadian Nonfiction to watch for this Fall" picks
Editorial Reviews
Maclean's
"Perhaps the greatest gift of. . .Lightfoot is that [it leads] you right back to [his] music. Feels like you never left, only better."


Globe and Mail
"an informative, highly readable book. . .Lightfoot fans should rejoice."


National Post

"Jennings as always is a master storyteller . . . His deft manipulation of narrative, told in clear language, draws the reader in immediately . . . Jennings's true gift might be his ability to slowly reveal Lightfoot to us – over the course of the book, the complexity of his character emerges, through a peeling away of the many layers the notoriously reticent singer has kept hidden. . . the best reward for Lightfoot fans who have waited for so long: Lightfoot is your chance to finally know him deeply."

FYI Music News
"This is the definitive book on Gordon Lightfoot's life and lengthy career."

NOW magazine
"To read this book is to come away with a greater understanding of how a young choirboy from Orillia became one of Canada's most revered songwriters and performers, and beloved among music fans around the world and across genres."

Zoomer
"Acclaimed Canadian music historian Nicholas Jennings presents the definitive biography of a national musical treasure."

Toronto Sun

". . .the biography for which the songwriter's fans have been patiently waiting. Jennings investigates the music and the man."

The Buffalo News
"This portrait of a stoic, deeply talented and driven man is an engaging and moving one. An essential read for anyone who cares about late 20th century troubadours."


Winnipeg Free Press
"Thorough and generous, without ignoring the singer's warts."

Montreal Times
"Nicholas Jennings' fascinating biography solidifies [Lightfoot's] legend…readers discover the two sides of the man who has told Canada's story to the world in song."


The Washington Post
"If you could read Gordon Lightfoot's mind, this is the tale his thoughts could tell. . .This is very much Gord's story, his version."