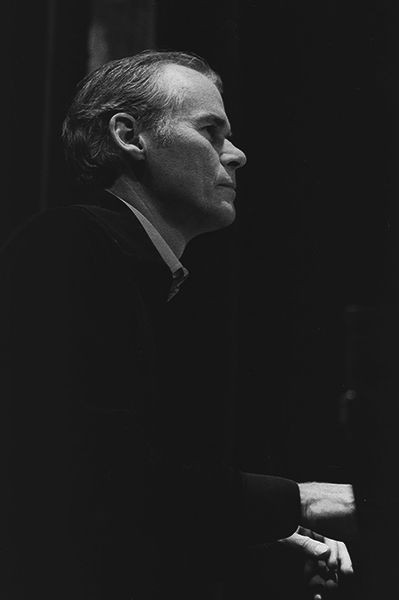 The world-renowned composer of Broadway's hit musical Hair began his musical career in the 1950s as the organist-choirmaster at Montreal's Westmount Baptist Church. At the time, Galt MacDermot also moonlighted in nightclubs around his hometown—"crashing about on the piano, turning church hymns into jazz," as one of his relatives, the writer Janet Savage Blachford, once recalled. By 1957, the son of a Canadian diplomat and teacher had composed music for My Fur Lady, Canada's most successful original musical.
MacDermot moved around a lot as a child, but music was a constant preoccupation. Encouraged by his piano-playing father, Terence, Galt began experimenting on the record at age five and became proficient on violin as a teenager. While attending Toronto's Upper Canada College, where his dad was the headmaster during the 1940s, Galt fell in love with the music of Louis Armstrong and Duke Ellington. "I'd never heard anything like that in my life and I became a fanatic," he told an interviewer. "I picked up the piano because all I wanted to play was boogie woogie."
After graduating from Bishop's University in Sherbrooke, with a BA in History and English, MacDermot moved to Cape Town when his father became the Canadian High Commissioner to South Africa. It proved another musical turning point for the 21-year-old pianist, as he discovered the township sounds of Miriam Makeba and Hugh Masekela. The young MacDermot enrolled in Cape Town University's music program and studied African music, which became another lifelong passion.
Back in Montreal, MacDermot got involved in a satirical production about Canada's national identity crisis. Working with future Pierre Trudeau executive assistant and Canada Council director Timothy Porteous, MacDermot composed songs for My Fur Lady, which started out at McGill University before moving on to the Stratford Festival and a national tour. The cast recording came out on Montreal's Laurentian Records—the same label that released MacDermot's first album, Art Gallery Jazz. That recording included his song "African Waltz," which earned him his first Grammy Award as the composer for Cannonball Adderley's version.
MacDermot's second Grammy came with the 1967 musical Hair and his now famous songs, including "Aquarius" and "Good Morning Starshine." Singer Allan Nichols, former frontman for the Montreal pop band J.B. & the Playboys, auditioned for the long-running musical in New York in 1969 and landed the lead roles of Berger and, later, Claude. He later also co-starred with Salome Bey in MacDermot's not-so-successful 1972 musical Dude, and sang in MacDermot's religious works Mass in F and Take This Bread, which opened Hamilton Place in 1973. "Galt was a genius when it came to melody and an incredibly soulful guy," recalls Nichols. "There was no one quite like him."
The Globe and Mail 20 December 2018