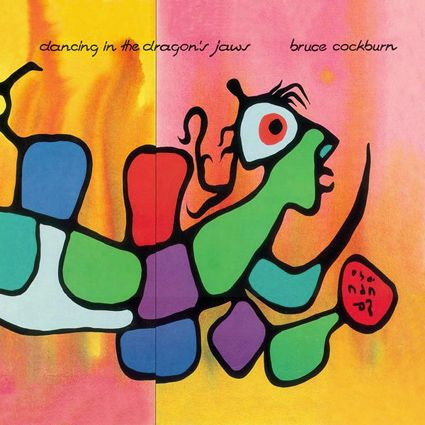 Rounding out the 1970s and completing a trilogy of acoustic jazz-folk albums that included In the Falling Dark and Further Adventures Of, Bruce Cockburn's Dancing in the Dragon's Jaws stands as both an era-ending album and a cumulative release that neatly built on the strengths of its predecessors. It also serves as a high-water mark for Cockburn in several respects. Featuring some of his finest guitar work ever, the album was voted an "essential" recording by Acoustic Guitar magazine, putting Cockburn in the prestigious company of such revered pickers as Django Reinhardt, Andrés Segovia, Bill Frisell and Mississippi John Hurt. It also provided Cockburn with a commercial breakthrough on the strength of his buoyant "Wondering Where the Lions Are," which became a Top 40 hit in both Canada and the United States.
With its colourful cover painting by Norval Morriseau, an Ojibwa artist who revitalized the iconography used in traditional rock drawings and birchbark scrolls, Dancing in the Dragon's Jaws boasts a bright, celebratory tone. The album, Cockburn once said, was about "being joyful in the face of everything." But, as the title suggests, it also alludes to danger and hardship. "I wanted to give a concrete expression of the suffering," he admitted, "that's all too evident in the world." Once again, as with Further Adventures Of, Cockburn's worldview was deeply influenced by the writing of several Christian freethinkers, including English poet, lay theologian and novelist Charles Williams, whose metaphysical thrillers featured vivid, Holy Grail-style imagery. Overall, the album is fuelled by the elation of Cockburn's deepening spirituality.
The album opens with a pair of spiritual songs. "Creation Dream," with Pat Godfrey's bubbling marimba, is Cockburn's vision of the Earth's genesis. But the more inspired—and inspiring—of the two is "Hills of Morning." Over a loping guitar, Cockburn paints a intriguing portrait of a street scene in which "a bunch of us were busy waiting." Waiting for what? The answer is hinted at in his description of someone coming down the road, with "dust motes [dancing] around [his] feet in a cloud of gold." A joyous chorus provides more clues: "Let me be a little of your breath," Cockburn sings to the oncoming figure. "I want to be a particle of your light." The scene suggests Jesus—something Cockburn confirmed when he explained that, in writing the song, he imagined himself "a street person in first century Jerusalem."
If "Hills of Morning" exemplifies Cockburn's imaginative skills, then the next track, "Badlands Flashback," offers proof of his guitar virtuosity. He sings the song's lyrics in French, but his real fluency shines through on the lengthy guitar solo, which features intricate fingerpicking and dazzling runs up and down the fretboard. More evidence of his fleet-fingered work is found on the similarly jazz-inflected "After the Rain" and on "Bye Bye Idi," one of two bonus instrumental tracks on this remastered version of the album. The latter, written after the overthrow of Ugandan dictator Idi Amin, features so many lightning-fast notes that you'd think Cockburn was playing a 21-string African kora, rather than a six-string guitar.
A meditative mood pervades the other bonus track, the chime-filled "Dawn Music," as well as "No Footprints," which reflects awe at the beauty of nature. In stark contrast, "Incandescent Blue" finds Cockburn going up against the chaos of the world. Written in New York City, it describes masked couples, kids practicing Kung fu and, metaphorically, the sound of people beating their heads against the wall.
The laid-back, reggae vibe of "Wondering Where the Lions Are," which Cockburn performed on TV's Saturday Night Live, belies an even greater tension. "The world survives into another day," he sings, backed by the rhythm section of Jamaican legend Leroy Sibbles' band. Turns out that Cockburn wrote the song the morning after a worrying conversation about the threat of nuclear war. He explained that he'd also had a nightmare in which lions were threatening at his door. His palpable relief comes across in the line, "I'm thinking about eternity, some kind of ecstasy got a hold on me." Only an artist of Bruce Cockburn's considerable gifts could score a light and breezy hit singing such weighty lyrics.
Nicholas Jennings
(Nicholas Jennings is the author of Before the Gold Rush, a critically acclaimed history of the Yorkville era of Canadian music in the 1960s)