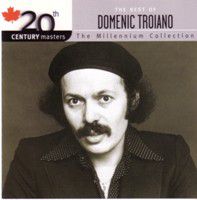 Guitar gods are usually pretty one-dimensional: masters of fretwork, they can be counted on for outrageous riffs and awesome solos, but rarely deliver quality songwriting or strong leadership. Domenic Troiano is a major exception. The consummate musician's musician, he has written superb songs and fronted numerous bands—all the while contributing dazzling, distinctive guitar work.
Over the course of his 40-year career, Troiano has also been highly prolific. In one seven-year period in the 1970s, he released five solo recordings and four band albums as a full-fledged member of the James Gang and the Guess Who. During this time, he also lent his unique guitar work to albums by Joe Cocker, David Clayton-Thomas, Diana Ross, Ronnie Hawkins and Donald Fagen, among others.
Such is the depth of Troiano's musical genius that he has been able to fill the shoes of several legendary guitarists over the years, replacing Robbie Robertson in Ronnie Hawkins' backing band and Joe Walsh in the James Gang, before helping to fill the void in the Guess Who left by Randy Bachman's departure. In 1996, Troiano's significant contributions were recognized when he was inducted in the Canadian Music Hall of Fame.
Born in Modugno, Italy, Troiano immigrated with his family to Canada as a boy and by high school had established himself in Toronto's burgeoning
rhythm-and-blues scene. After playing guitar with Robbie Lane & the Disciples, Troiano formed the popular soul-rock band Mandala, recording his anthemic "Opportunity" for the Chess label and the Soul Crusade album for Atlantic Records. Following the Mandala's demise, Troiano put together Bush, an inventive, Los Angeles-based rock group. Bush made one gem of an album, featuring Troiano's funky "I Can Hear You Calling," also recorded by Three Dog Night, and his jazzy "Turn Down."
When Bush split, the James Gang recruited Troiano, who made no attempt to duplicate Walsh's style. Instead, he brought a new musicality and rhythmic edge that the band had never displayed. Troiano's "Kickback Man," from 1972's Straight Shooter album, is without a doubt the funkiest track the James Gang ever recorded. That same year, Troiano made one other album with the James Gang, Passin' Through, before making his self-titled solo debut.
Released on the Mercury label, Domenic Troiano was a bold artistic statement. Featuring stirring, motivational songs like "Try" and radio-friendly pop tracks like "The Writing's on the Wall," later covered by Skylark and Three Dog Night, the album was Troiano's most mainstream effort. It also included "Let Me Go Back," a nostalgic song about Toronto's r&b club the Bluenote where Troiano got his start, and "The Answer," an energetic number with what remains one of Troiano's most astonishing guitar solos, full of lightning-fast, quicksilver notes.
After making one more Mercury album, 1973's Tricky, and two with Burton Cummings in the Guess Who, 1974's Flavours and 1975's Power in the Music, Troiano was signed to Capitol Records. The Domenic Troiano Band's Burnin' at the Stake, described by Billboard magazine in 1977 as "a fierce blend of rock, r&b and soul-tinged numbers, included the fine jazz-fusion instrumental "Lonely Girl." The Troiano Band's follow-up album, 1978's The Joke's on Me, showcased some of the best guitar work of Troiano's career, including the gorgeous instrumental tribute to Billie Holiday, "Eleanora Fagen."
By the time he released his final Capitol album, 1979's Fret Fever, he was now billing himself as simply Troiano. The star-power move proved appropriate, as the album produced Troiano's biggest hit single, the dance-oriented "We All Need Love." Two of the album's best numbers were the autobiographical title track and the urgent jazz-rock instrumental "Ambush."
With the dawn of a new decade, Troiano recorded one more album, 1981's Changing of the Guard under the band name Black Market. It included the backward-glancing "Turn Back," featuring another of his piercing, trademark solos. He then turned to a highly successful career scoring music for films and television shows. But Troiano's recording work, beginning with the mighty soul crusade of the Mandala and ending with feverish rock-funk of Black Market, is a testament to his status as one of the world's most talented guitar gods.
Nicholas Jennings
Nicholas Jennings, an author and one of Canada's foremost music journalists, has previously written about the Mandala in Before the Gold Rush, and about Troiano's solo career in Fifty Years of Music: The Story of EMI Music Canada