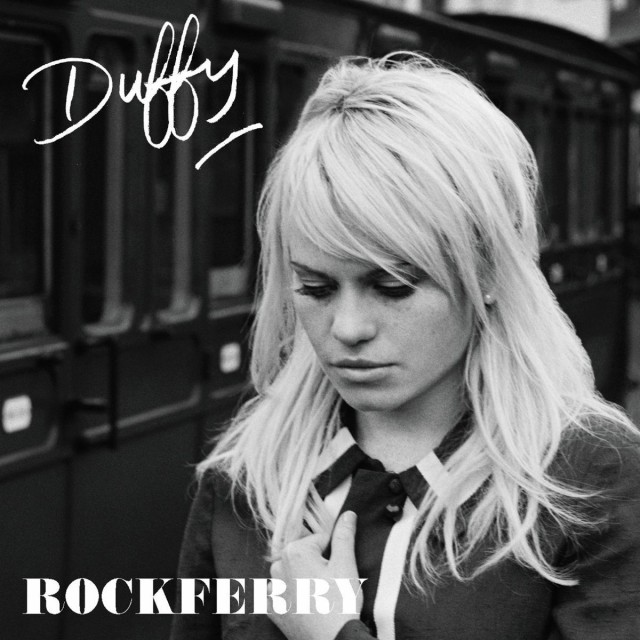 It's easy to be cynical about the latest soul sensation from the British Isles to land on these shores. After all, there's been a steady flow of divas from Ol' Blighty in recent years, from Joss Stone and Corinne Bailey Rae to Lily Allen and Amy Winehouse. But Duffy is different. The Welsh-born singer's sound, although steeped in '60s soul, packs an emotional wallop that gives the newcomer a distinct advantage over her soul sisters. It's as if the 23-year-old blonde songstress has arrived fully formed—with a lifetime's worth of longing and heartache in her voice.
One listen to Duffy's debut album, Rockferry, instantly brings to mind the blue-eyed soul of Dusty Springfield—with a little Ronnie Spector, girl-group pop thrown in. There are also traces of Phil Spector's Wall of Sound production in the twin peaks of the feverish opening title track and the closing, horn- and string-laden epic "Distant Dreamer." Duffy co-wrote all 10 tracks with ex-Suede guitarist Bernard Butler, Jimmy Hogarth and Steve Booker, each of whom shared production duties on the album. "A bag of songs and a heavy heart, won't make me doubt," she sings on "Rockferry," before breaking into the thrilling declaration "I give it all my strength and my mind, I'll make this decision, win all the fights."
Duffy's background belies such depth and wisdom. Born in the little Welsh town of Nefyn, she grew up without access to the music of Diana Ross, Dionne Warwick or even Dusty Springfield. "I didn't know what Motown was," admits Duffy, sitting in a hotel lounge, the morning after a buzz-worthy performance at Toronto's Mod Club. It was only after moving to London that her music education began. "I had written the majority of the songs before I really got a grasp of what went before," she says. "Now I know all about Aretha Franklin, Doris Duke and Bettye Swann. It's just being really receptive." "She managed to grow up without any concept of what's cool or current, even of how to sing," Butler has said. "What you've got as a result is someone who acts and sings utterly unselfconsciously and from the heart—a most rare and magical thing."
So how did Duffy come to sound so wonderfully world-weary and heart-broken? "I had to learn quickly, from the age of 15 to 18," she says. "I made a lot of mistakes. I saw it all—drugs, alcohol, sex." Drugs were a problem, even in tiny Nefyn? "Yeah, it's a really big problem, actually. I didn't fall into that trap myself, but I have friends who did." What about heartbreak? "I know regret and disappointment. But I don't really know what love is. I fantasize about falling in love, the real kind of love." At the Mod Club, she introduces the lovely, languorous ballad "Stepping Stone" by saying: "I fell in love once and never told him, so I wrote a song about it." So she's either a quick study or an old soul. Either way, Duffy's the real deal.