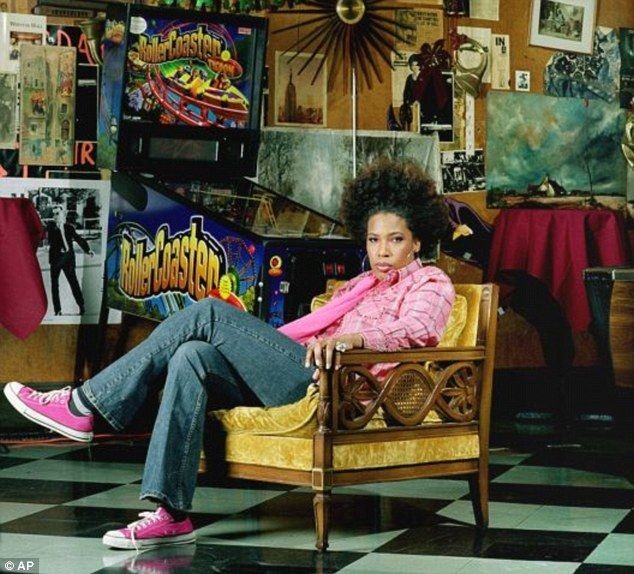 The High Priestess of Freak is looking suspiciously like a Volvo Driving Soccer Mom. Dressed in a denim shirt, track pants and running shoes, with only a white, fun-fur cowboy hat hinting at her outlandish style, Macy Gray arrives at a studio in Burbank, California for a rehearsal with her seven-piece band. She's late and her group has already run through most her repertoire. But the singer doesn't seem the least bit concerned. Instead, Gray plonks herself down on a couch, curls her long, lanky frame up at one end of it and hides beneath the wide brim of her hat, nodding occasionally along to the music. She seems bored or at least tired—which would be entirely understandable, given that she's just raced back down the freeway after picking up her three kids, feeding them, dropping them off at her mother's and returning to the same studio where she spent the afternoon doing interviews for her third album, The Trouble with Being Myself.
Life has become increasingly complicated for the 33-year-old singer who rose to prominence in 1999 with her upbeat funk and mellow soul songs about love and sex. Gray's debut album, On How Life Is, sold more than seven million copies thanks to the hit singles "I Try" and "Why Don't You Call Me." Then, she won a Grammy Award and appeared as a "ghetto hoochie mama" alongside Denzel Washington in Training Day. And she really let her freak flag fly on her followup album, The Id, which featured the hit single ballad "Sweet Baby" along with such eccentric songs as the psychedelic disco-soul anthem "Sexual Revolution" and the brilliant, Kurt Weill-inspired "Oblivion." The sex-o-matic queen, all glammed up in feather-boa chic, suddenly seemed to be everywhere.
But it was Gray's voice that first caught everyone's attention. A cross between Betty Boop and Billie Holiday—squeaky in speech, raspy in song, it immediately set her apart from other neo-soul singers like Erykah Badu, Jill Scott and Angie Stone. It's so distinctive, in fact, that it will have a starring role in a cartoon series that she is developing based on her childhood.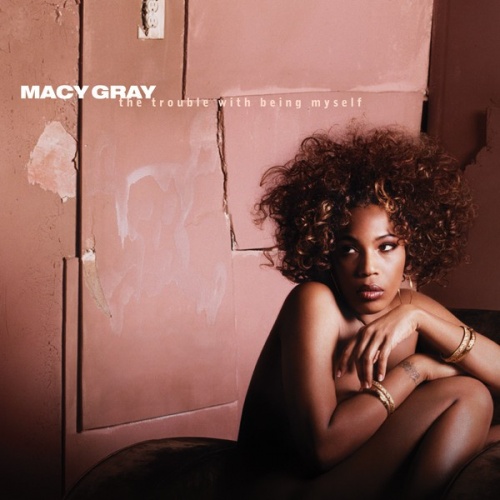 Sitting in the studio on the afternoon of the rehearsal, Gray's voice is barely audible at times during an hour-long interview—especially when fielding questions about herself. One of the biggest revelations comes not from one of her answers but from a line in "Things That Made Me Change," a jazzy, bittersweet song from the new album about the recent death of her father. "I try to hang on to the best of me," Gray sings, "but changes keep on changing me." Another song on the album, the down-and-dirty rap of "It Ain't the Money," featuring a guest appearance by Beck, deals with the corrupting influence of cash. Has Gray had a hard time with wealth and fame? "There are a lot of illusions about it," she says, almost whispering. "Money is a wonderful thing—don't get me wrong. I've had a lot of fun with it and it does buy you a bit of power. But there are myths about that whole lifestyle. If you listen too much and believe things about it, it can really fuck you up."
Although clearly shy in conversation, Gray is admirably bold and assertive in song. Her previous albums have unflinchingly tackled such touchy topics as sex, infidelity and death on songs like "Caligula," "Boo" and "I've Committed Murder." The Trouble with Being Myself is equally uninhibited. On the sunny, horn-fuelled romp "Come Together" Gray sings appreciatively about her lover's "fine chocolate ass," while the giddy chorus of "Screamin'" has her confessing that carnal delights are the cure for all her troubles. Meanwhile, the sarcastically titled "My Fondest Childhood Memories" is another of Gray's bizarre murder-fantasy songs. In this one, a surreal number that blends operatic voices and ska rhythms, the homicide is prompted by the peccadilloes of parents. Does that mean the song's autobiographical? Gray answers softly: "Every kid knows about their parents' infidelities, even when they don't think they know." She adds, with an affectionate chuckle: "My dad was always hanging out at my aunt's house, know what I mean? And my mother's a very good looking lady—the guys always liked her. I just wanted my parents to stay together, which fortunately they did."
Born Natalie McIntyre in Canton, Ohio, a couple of blocks from where Brian Warner a.k.a. Marilyn Manson grew up, Gray was raised by her school administrator mother and her retired steelworker stepfather. The voice that later proved a blessing was initially a curse, as the teenage Gray was teased mercilessly and became quiet and introverted as a result. A sports scholarship sent her to a mostly all-white boarding school where she was exposed to rock music. "My roommate was really into John Cougar Mellencamp," Gray recalls. "We watched MTV—I remember Rod Stewart's "Baby Jane" was the first video I ever saw. Rock really grew on me. I became a big Van Halen fan."
In the late 1980s, Gray moved to Los Angeles to study screenwriting at the University of Southern California. But she started hanging out with local musicians, writing lyrics for them and never graduated from film school. After months of late-night jamming in an after-hours coffee shop called The We Ours, Gray recorded demos and an album for Atlantic Records that was never released. She married a mortgage collector and two children quickly followed, but her marriage began unraveling shortly afterwards. Gray and her husband separated before their third child arrived. But her fortunes changed when her demo tape landed her a deal with Epic Records. On How Life Is came out the following year and Gray's whole world was suddenly turned upside down.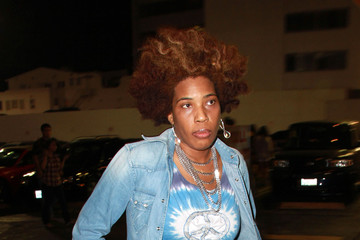 Now the whole music world seems to be Gray's for the taking, an oyster ready for her to pick. Although The Id failed to match On How Life Is in sales terms, it was universally hailed as a creative masterpiece. The new album seems likely to consolidate Gray's success, mixing accessible ballads with feel-good anthems while keeping experimentalism to a minimum. There's a sunny, party atmosphere to much of the album, reminiscent of Sly & the Family Stone and, even more, Prince. The Artist formerly known as the Artist was one of Gray's childhood heroes: she saw him perform on his Purple Rain tour and promptly painted her entire bedroom purple as a shrine to him. When Gray performed at Toronto's Guvernment club in the fall of 2000, Prince, who now lives in Toronto's exclusive Bridle Path district, dropped in to catch her show. Afterwards, the two met upstairs in the club and talked into the wee hours. "I'll never forget that," gushes Gray. "We talked for what seemed like forever about music. He's really obsessed with music of all kinds. I was really impressed by him."
There was no sign of his Purpleness when Gray appeared again at the Guvernment in March. But his spirit—especially his message of sexual liberation—was in the air and definitely present in Gray's flamboyant performance. "Shake your ass, Toronto," she shouted, wearing a sequined plaid shirt and turquoise pant and sporting a giant Afro wig that gave her the look of a sexualized Angela Davis, the black radical of the 1970s. Throughout the concert, Gray made numerous libidinous remarks. And during "Sexual Revolution," she asked "all the sexy people in the house" to get naked. Some of her male band members obliged and stripped to the waist, while Gray dropped her own pants briefly, revealing an impossibly long pair of legs. Once, at a concert in Manchester, she actually mooned her audience. For Gray, she merely practicing what she preaches and sharing her "freak" with the rest of the world.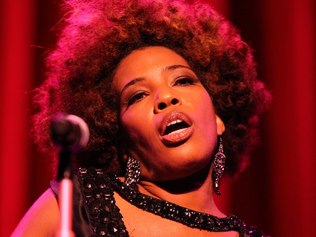 During the interview, Gray mentions that the first concert she ever saw was the Jackson Five in Cleveland. Gray was just a child, but she remembers that after the show Michael Jackson ran up the aisle, creating a mob scene. "My mother grabbed his cheek and my cousin tore a piece of his shirt off," recalls Gray. "It must've been horrible for him, but he got up, still smiling, and ran off. It was crazy." The conversation turns to the recent documentary about Jackson. Does she think he's a pedophile? "That doesn't resonate for me," she says. "As a girl, first thing you learn is who is a dirty old man. You can spot them a mile away and he doesn't seem like he has that in him. I think he's a really interesting guy. He's probably exactly what you'd expect him to be considering the life he's had. But he's not good at press. You can tell in the documentary that he doesn't know when to shut up. There's some things I wouldn't share with the media."
Hasn't she already shared plenty? "I don't really share as much as some people think I do," says Gray. "Art is the best cover up. If it's crazy and freaky, you can hide behind it. That's the best thing about art—it covers up everything, if you want it to." So, is she as freaky as her songs suggest? "That's why I'm an artist," she says with a squeaky giggle. "You'll never know."
Originally published in Inside Entertainment April 2003