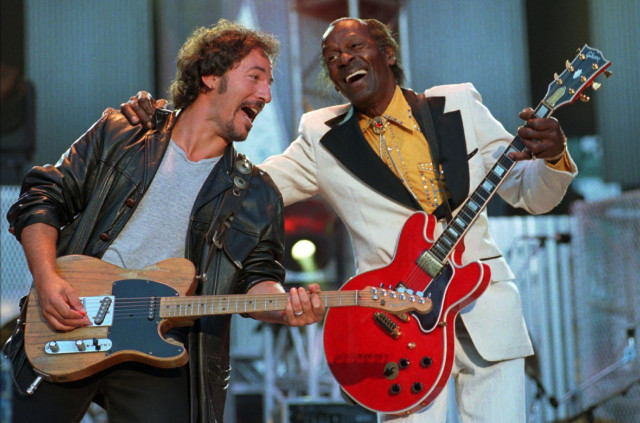 As museum pieces, they are the most humble of artifacts: a few report cards, a black leather jacket, a pair of government-issue eye glasses. Yet for many, the three objects are priceless. Once the property of John Lennon, those treasures are now on display at the recently opened Rock and Roll Hall of Fame and Museum in Cleveland, Ohio, where they are already among its most popular exhibits. Looking at the articles, it is easy to see why: each of them brings the viewer closer to the real Lennon. His elementary school report card reveals that one of his teachers found rock's future genius "hopeless," while the well-worn, sloppy jacket somehow perfectly captures the musician's irreverent charm. And Lennon's wire-rimmed spectacles trigger a flood of emotions because they are so evocative of the artist, who was fatally shot by a crazed fan in December, 1980.
"Rock music has a power that makes you want to be a part of it," says museum director Dennis Barrie. "Hopefully, we represent some of that."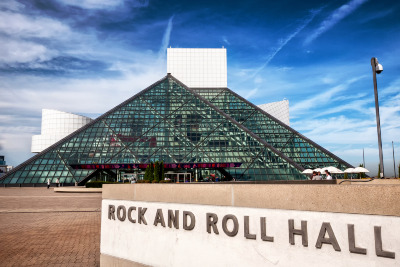 Judging by the scores of fans who flooded into the facility during its Labor Day weekend opening—an estimated 8,000 on the first day—Barrie need not worry: despite a once-shaky history, the Rock and Roll Hall of Fame and Museum is now a resounding success. Visitors can feast on more than 3,500 items, ranging from posters, album jackets and handwritten lyric sheets to movies and interactive exhibits that play requested songs and videos. Among the most memorable displays: a replica of the old Sun Studios in Memphis, Tenn., where Elvis Presley made his first records; a piece of Otis Redding's private airplane, which crashed in 1967; and the 1945 Magnavox tape recorder that pioneering musicologist Alan Lomax used to record blues legends such as Lead Belly and Muddy Waters. And Hall of Fame inductees Neil Young and The Band are reminders that rock has also thrived in Canada.
Meanwhile, hundreds of photographs, instruments and costumes—including Michael Jackson's famed sequinned glove and Madonna's gold bustier—are also housed in the museum's impressive, seven-level structure, a $123-million geometric shrine designed by New York City-based architect I. M. Pei, whose other accomplishments include the additions to the National Gallery of Art in Washington and the Louvre in Paris. From the air, the lakefront building resembles a record player with turntable, tonearm and a stack of 45s. But from the ground level, the elaborate structure is a cheeky mix of pyramid-like facades, rectangular towers and trapezoidal extensions that boldly jut out over Lake Erie.
The contents of the museum, like the all-star concert that launched it on Sept. 2—the roster of performers included Chuck Berry, James Brown, The Kinks, Creedence Clearwater Revival, Robbie Robertson and Bruce Springsteen—reflect rock in all of its ragged glory. For some, the very idea of chronicling the history of rock 'n' roll in a serious, curated institution is offensive. They argue that, like caging a wild beast, it runs counter to the laws of nature, as though rock music should always be allowed to roam free of commerce and academia. "Absolute nonsense," scoffs Rob Bowman, a professor of rock at Toronto's York University. "Rock has been institutionalized for at least the last 40 years, by record companies, radio stations and other media. Anyone who doesn't understand that is a hopeless romantic." Still, it is difficult to ignore some of the contradictions raised by the museum. Thirty years ago, The Who's Pete Townshend was smashing his guitar in a display of anarchic frenzy, yet the museum has one of his instruments respectfully encased in a glass cabinet. The irony is not lost on Ron House of the Columbus, Ohio-based band Thomas Jefferson Slave Apartments. The musician has written a punk protest song called RnR Hall of Fame that angrily tackles the subject. "I don't want to see Eric Clapton's stuffed baby/I don't want to see the shotgun of Kurt Cobain," sings House. "I don't want to see the liver of David Crosby/Blow it up before Johnny Rotten gets in."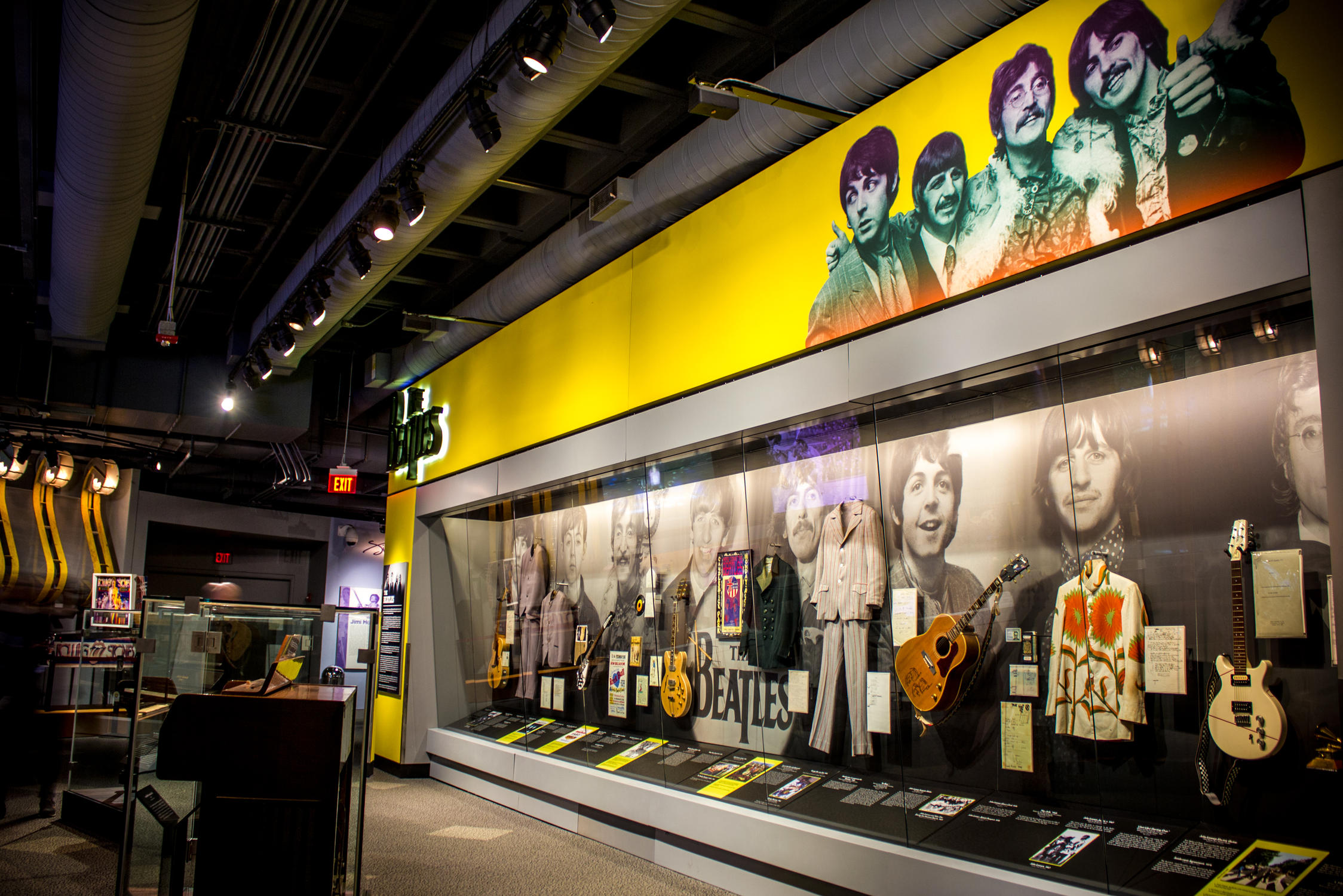 Although Rotten's Sex Pistols have yet to be inducted by the Hall of Fame Foundation (artists become eligible 25 years after their first recording), the British punk band is part of the museum's "Blank Generation" exhibit, which examines punk's birth in London and New York City between 1975 and 1980. Included is an 11-inch Sid Vicious doll, complete with chains, ripped T-shirt and swastika, that was used as a prop in the 1980 documentary, The Great Rock 'n' Roll Swindle, made a year after his death from a heroin overdose.
In fact, the museum strives mightily to keep up to date with rock's more recent developments, charting the rise of rap music and Seattle's grunge scene. According to chief curator James Henke, a former editor at Rolling Stone, the museum's collection will be in constant flux. That is partly due to the fact that most display items are on loan, partly due to the nature of its subject matter. Says Henke: "Like the music, it'll always be evolving."
However, the collection is shamelessly skewed to the past. Above the entrance to the main exhibition area is a neon sign quoting Chuck Berry: "Roll Over Beethoven." Berry and other such pioneers as Little Richard and Presley are well represented in a noisy, arcadelike space that includes small cinemas, record booths and computer screens. Amateur musicologists can trace the 500 songs that the museum has deemed to have shaped the history of rock 'n' roll. Among the oldest entries: Woody Guthrie's 1956 folk anthem This Land is Your Land and Louis Jordan's jump-blues classic Caldonia, written in 1945. But the most revealing exhibit is The Beat Goes On, which traces musical family trees. Touch-screen computers allow museum-goers to click on images of musicians and discover their influences through video clips and songs. In some cases, the technology bridges generations. Lucy Schlopy, an 82-year-old visitor from Bradford, Pa., found that her favorite artist, Roy Orbison, had in turn influenced one of her greatniece's musical heroes, Bruce Springsteen. "I'm learning all kinds of things," said Schlopy.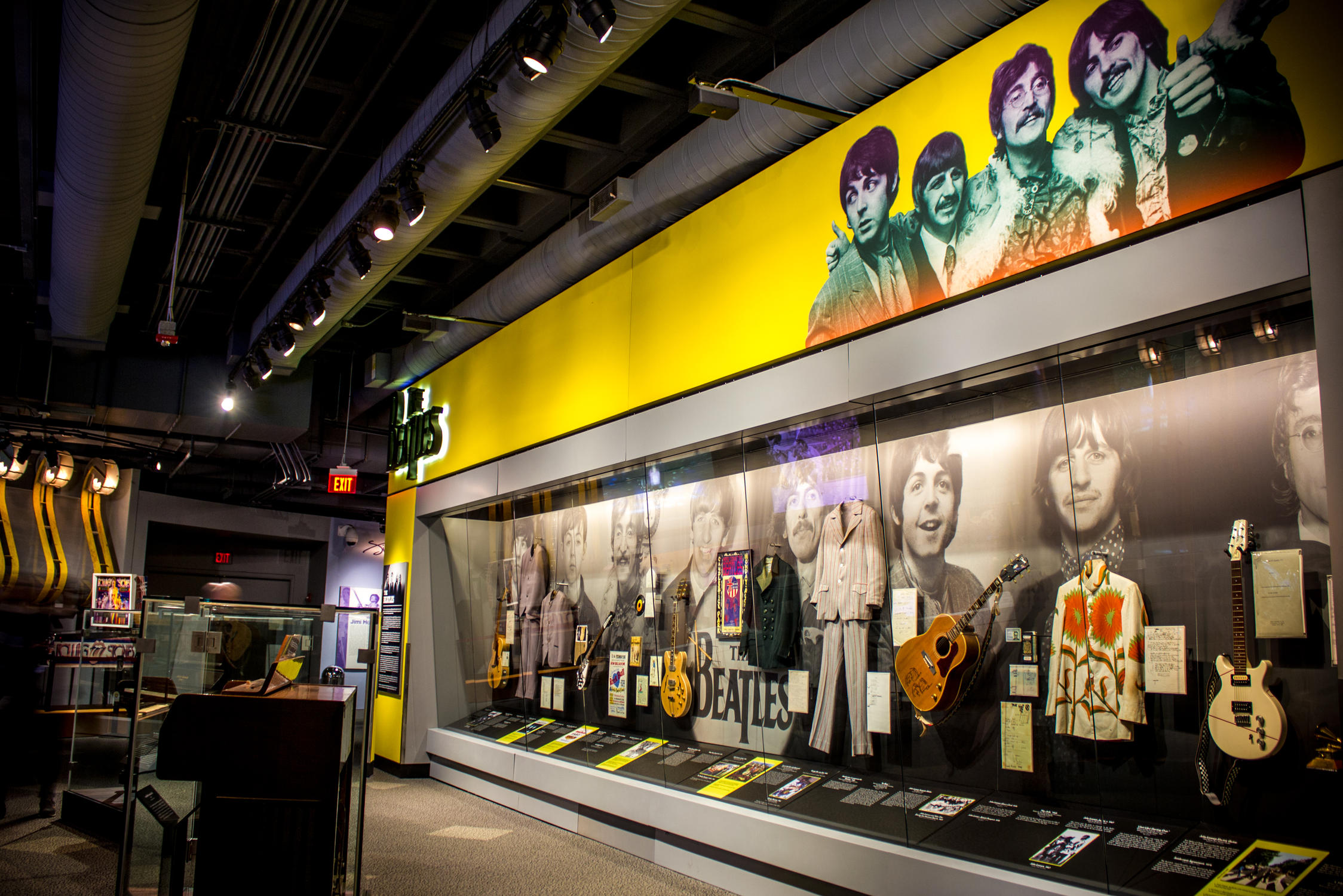 Responses like that, says director Barrie, who previously worked at the Smithsonian Institution in Washington and Cincinnati's Contemporary Arts Center, prove that the museum is a success. "People are actually reading, taking in the content of the exhibits," he beamed. "They're not just looking at the glittery costumes, which is very gratifying." At the same time, the costumed mannequins throughout the museum are proving to be among the biggest draws. Especially popular are Presley's leather stage outfit from his 1968 comeback TV special, Lennon's lime-green Sgt. Pepper's uniform and the "butterfly dresses" of Motown's The Suprêmes. For the kids, rock's schlock meister Alice Cooper, standing next to a guillotine and a bloody, severed head, is an awesome, cartoonish highlight.
By contrast, the actual Hall of Fame, housed on the top floor, is a model of decorum. To get there, visitors climb a long, spiral staircase to reach a darkened room honoring the inductees (123 so far). Images of such legends as Buddy Holly and Bob Marley dissolve on tiny video screens like ghosts, while their signatures, etched on backlit glass plaques, seem to float in the ether. After the musical cacophony and video chaos œ downstairs, the Hall of Fame is a welcome sanctuary.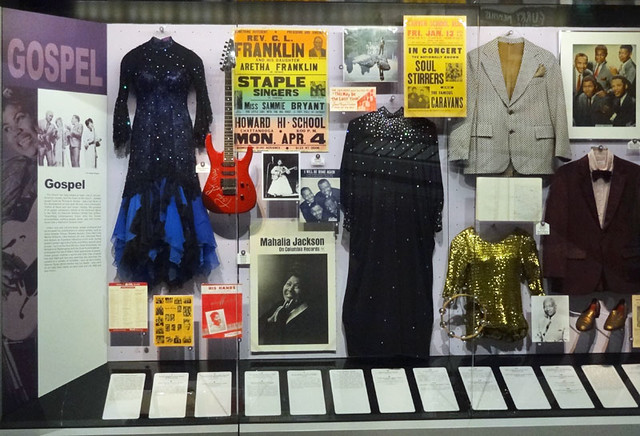 For the Hall of Fame's creators, the museum was a pipe dream that almost never materialized. Founders Jann Wenner, editor of Rolling Stone, and Ahmet Ertegun, president of Atlantic Records, steered the project through three directors and one site change before the groundbreaking two years ago. Cleveland was chosen over Memphis and New York after residents collected 600,000 signatures and local businesses raised $87 million. But the city had already earned a place in rock history: Alan Freed, its famous deejay, popularized the term rock 'n' roll in the 1950s.
At the museum's ribbon-cutting ceremony, Jimi Hendrix's version of The Star Spangled Banner played over the loudspeakers. The guitarist's rendition, conceived as an anti-Vietnam statement at Woodstock in 1969, is full of feedback and guitar distortions designed to simulate war sounds. But suddenly, Hendrix's tortured notes were punctuated by the real-life sounds of two Marine Corps Harrier jets flying overhead. The irony was not lost on some in the crowd, including Wenner, who later addressed the issue of how rock has now joined the establishment. The hall, said Wenner, standing next to Lennon's widow Yoko Ono, was built to remind people of the "power of innocence, rebellion and youth," but also the value of "maturity and growth and perspective." Rock 'n' roll, once scruffy and rebellious, is all grown up. Although it will strike some as contradictory, a hall of fame and museum is simply a natural step in its evolution.
Originally published in Maclean's 18 September 1995