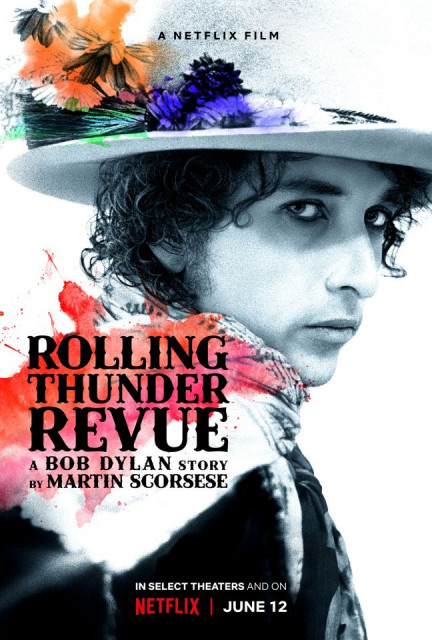 There's plenty to love about Martin Scorcese's new Netflix documentary about Bob Dylan's Rolling Thunder Revue tour. There are some illuminating present-day interviews with cast members including the masked ringleader Dylan himself, although he claims to barely remember anything about the tour, as he wasn't "even born yet."
The story itself is one of rock's great dramas. Rolling Thunder was an entirely different way of touring. It began with the idea of Dylan, his buddy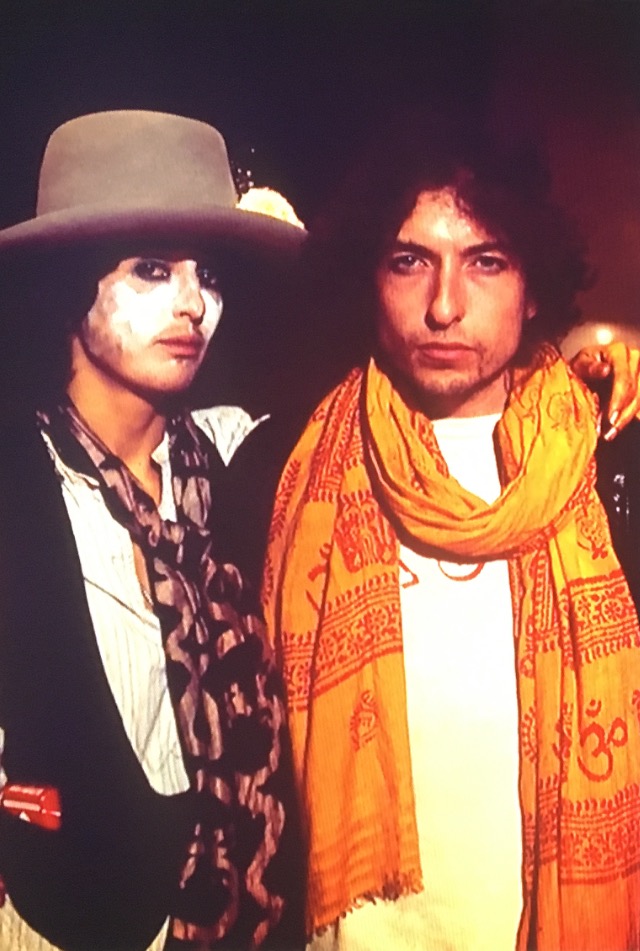 Bobby Neuwirth and mentor Ramblin' Jack Elliott playing small venues while traveling around in a station wagon. When that proved impractical, it grew into a larger, illustrious cast of characters that included Joan Baez, Roger McGuinn, Ronee Blakley, who'd just appeared in Robert Altman's Nashville, and a stellar band featuring gypsy violinist Scarlet Rivera, future Americana star T-Bone Burnett and ex-David Bowie sideman Mick Ronson.
It was a wild, theatrical affair, with Dylan performing in white greasepaint, Allen Ginsberg along for the ride as resident poet and actor-playwright Sam Shepard documenting the antics, impressionistically, in a journal. Cameras shooting footage for a planned film called Renaldo and Clara captured the giddy spirit of the tour. It was like a bunch of kids had run away and joined the circus.
The tour opened on October 30, 1975 in Plymouth, Massachusetts and rolled through New England in two buses. Additional guests were hopping on and off like passengers on a train. Joni Mitchell was supposed to appear only at Niagara Falls, but enjoyed the tour's communal feeling so much she stayed on for several dates.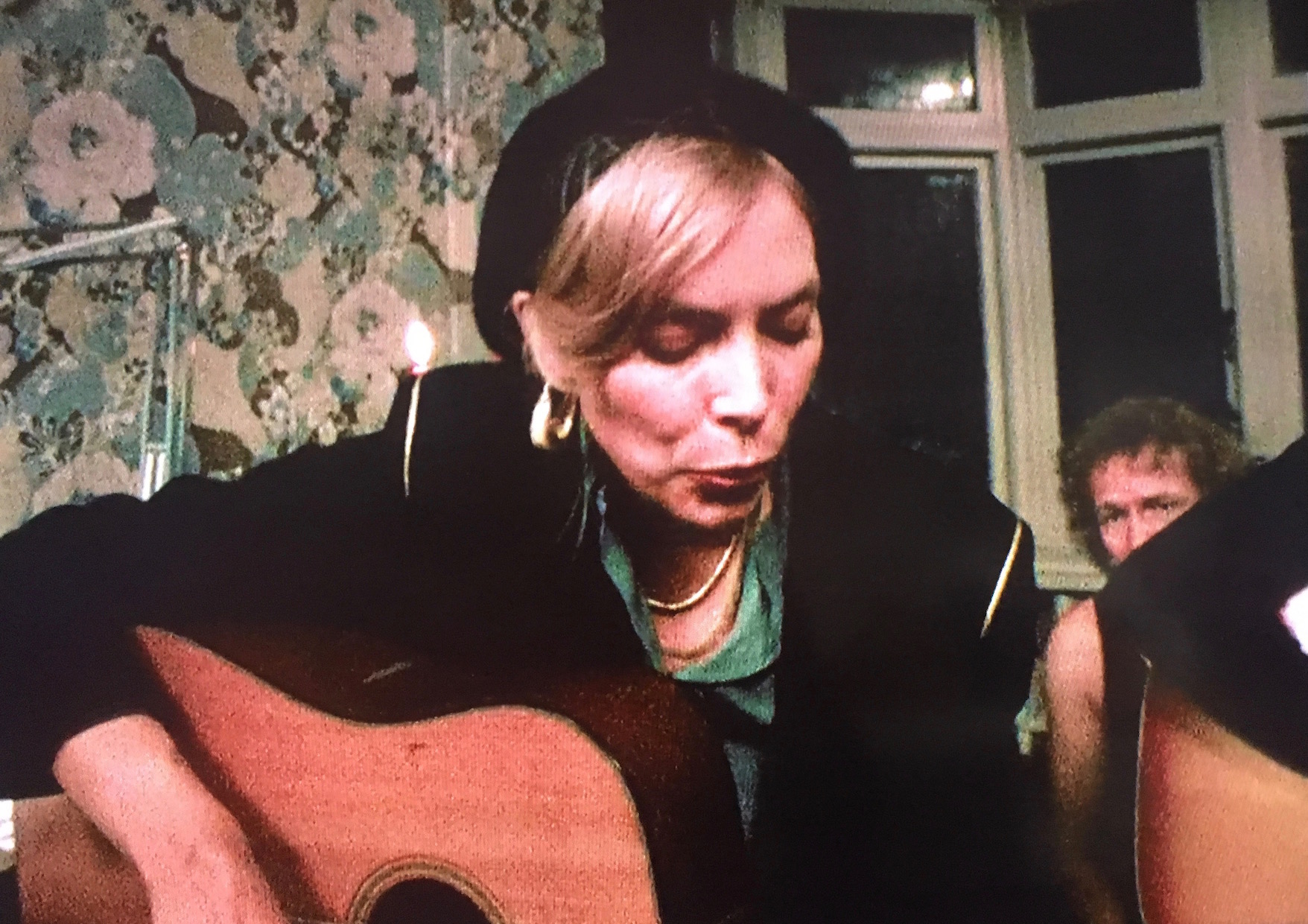 When Rolling Thunder rolled into Toronto for two nights, it only natural for Dylan to invite his old buddy Gordon Lightfoot to join in the fun. The Canadian folk legend shared a long history with the "Blowin' in the Wind" singer, having shared manager Albert Grossman during the Folk Scare of the mid-1960s. Dylan gave Lightfoot an important slot in the show, right before his own final set. And when he and Baez the traditional ballad "Dark As a Dungeon," Dylan dedicated it to Lightfoot.
For the documentary, Scorcese relies heavily on footage shot during the tour by Howard Alk (yet proported to be shot by Stefan van Drop, a fictional filmmaker played by actor Martin von Haselberg). The live performances of Dylan singing epic songs like "Isis" and "Hurricane," which were both recent compositions at the time, or electrified takes on early classics like "A Hard Rain's a-Gonna Fall," are just some of the highlights of Rolling Thunder Revue - A Bob Dylan Story. Even better is "A Simple Twist of Fate," the only song from Blood on the Tracks featured in the movie. But the standout Dylan track is "One More Cup of Coffee (Valley Below)," a Latin-tinged gem from his Desire album, inspired by gypsy guitar music he'd heard the previous year in France.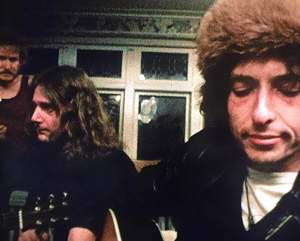 There's a lot not included in the film, including any of Lightfoot's performances, which featured one of his brand new songs, "Race Among the Ruins," and "Sundown," his taut tale of sexual jealousy. But one of the movie's best moments comes when it ventures into Lightfoot's Toronto mansion, where he threw a now-legendary party for the Rolling Thunder cast members.
As the camera goes upstairs, the viewer is treated to several intimate jam sessions. The first involves David Rea, Joni Mitchell and Roger McGuinn performing an old bluegrass number. There's no footage included of the session Dylan and Lightfoot had in that upstairs room. But there is ia stunning performance by Joni Mitchell of her song "Coyote," which she teaches Dylan and McGuinn how to play. Lightfoot can be seen in the background, trying to stay out of the camera but wanting to witness Joni's new song, which appeared on her Hejira album the following year.