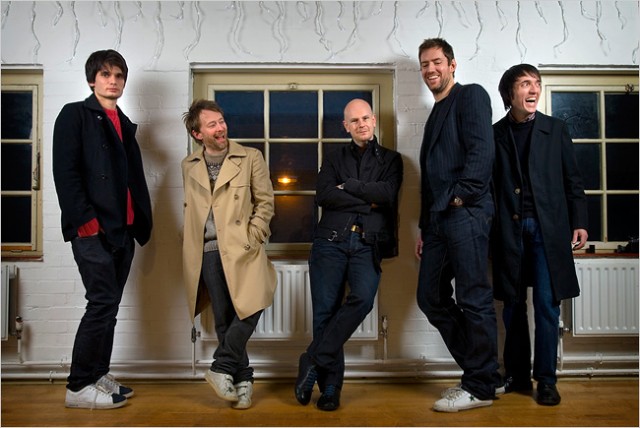 My 13-year-old son, Duncan, came with me to a listening session for the new Radiohead album, Hail to the Thief, organized by EMI in an IMAX theatre equipped with massive, state-of-the-art, surround-sound speakers. Duncan writes about music for a magazine called Brand New Planet, so he had a legitimate reason for attending. (In truth he was more excited about seeing a sneak preview of The Matrix Reloaded that EMI had added.) As the lights in the IMAX theatre darkened and the hypnotic groove of the opening track "2+2=5" kicked in, my son and I settled in for an accentuated aural experience. By the time he heard the dreamy, rhythmic strains of "There, There," Duncan leaned over to me and whispered that it was the best record he'd ever heard. Don't be too hasty, I warned him, not wanting him to abandon critical judgment to the seductive powers of good speakers in a dark room. How does the music make you feel? I asked him. "Like dancing," he said.
When I tell Radiohead this a couple of weeks later, guitarist Ed O'Brien and drummer Phil Selway are clearly quite chuffed. "That's a great compliment," says Selway, beaming. "It's what we want to hear," adds O'Brien. "That's what this album is about. It's not about being cerebral or thinking too much. It's a warm record, a cuddly, dark record. And it's quite joyous, so dancing is a very intuitive response to it." Dancing was not the intuitive response to Radiohead's last two albums, Kid A and Amnesiac, which many people found challenging. O'Brien even goes so far as to call them "harsh and unlistenable." But isn't Hail to the Thief, with its anti-George Bush title and the songs' Orwellian, anti-authoritarian themes, really a protest record? "It's more like a series of fairy tales," says Selway. Certainly the video for "There, There," in which singer Thom Yorke, depicting a thieving visitor to an enchanted forest who gets his comeuppance, bears this out. "There's great warmth to fairy tales," continues O'Brien. "And yet there's also something quite severe, even gruesome, about them." Like Hansel and Gretel or Little Red Riding Hood? I venture. "Exactly," says O'Brien. "Quite savage, really."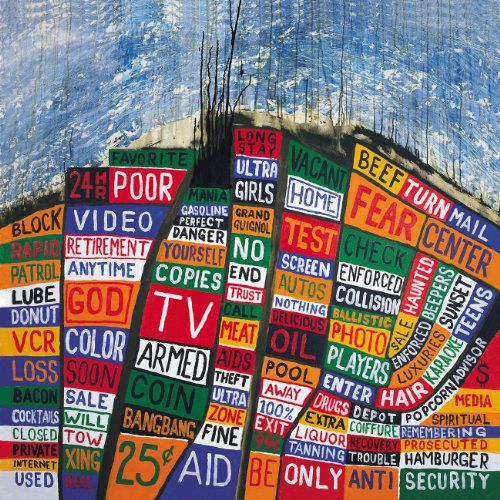 O'Brien and Selway went on to talk about recording the album, first in Los Angeles and then at their studio in the countryside near Oxford, England. "Being in sunny L.A. brought out the warmth in the record and the openness," commented Selway. "Actually," interjects O'Brien, "we got a bit worried that it was sounding too West Coast, with very sunny grooves and tempos. Going back to cold, rainy Oxfordshire in early winter added the darkness." Laughing, he added: "That's what made it a Radiohead record." Songs like "The Gloaming," its title taken from the archaic word for twilight, and "Wolf at the Door" convey the album's underlying sense of dread, a fear of the unknown or the future. Yorke, the band's lyricist, has said that phrases like "are you such a dreamer/to put the world to rights?" and "we can wipe you out anytime" came to him listening to news radio in the aftermath of 9/11 and during Bush's "roadmap" plans for the Middle East. And although Yorke admitted that the album is about "thinly veiled anger," he insisted that there was no Clash-like manifesto and that the lyrics were mostly involuntary.
Ultimately, Hail to the Thief is a candied-coated bitter pill, with sweet tunes that leave a disturbing aftertaste. But Duncan's right: it's a guitar-driven album that makes you instinctively want to dance—perhaps for the first time since Radiohead's The Bends or Pablo Honey. O'Brien and Selway say they can't wait to take these new songs on the road, which they'll do when Radiohead tours Canada later this summer with stops in Montreal (Aug. 15), Toronto (Aug. 16) and Vancouver (Aug. 31). "We've been playing live a lot in the last two years," says O'Brien, "and we've developed a new confidence and a rhythm in our performances. There's a genuinely good spirit in our audience and it's a good night out." Then, laughing at how much this sounds like a concert sales pitch, he adds: "Especially for the players." With Hail to the Thief Radiohead, the normally gloomy art-rockers, actually appear to be having fun.