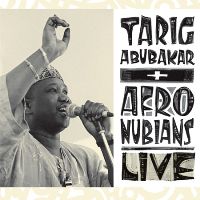 When Tarig Abubakar died in 1998, the world lost one of African music's greatest ambassadors. Having arrived in Canada from Sudan as a refugee 10 years earlier, Tarig made it his mission to bridge cultures with music. His band, the Afronubians, was a veritable United Nations ensemble, with musicians from East, Central and West Africa working alongside Canadian and even Russian-born players. Together, they forged a vibrant, rhythmic sound that attracted a loyal following on the Toronto club circuit. But Tarig was never content with just local exposure. He had visions of spreading African music far and wide. Between 1995 and 1997, he took his Afronubians on three cross-Canada tours, playing remote places like Ness Creek, Canmore, Kamloops, Prince Rupert and Whitehorse—sometimes in the coldest, darkest days of winter. And Tarig, a round-faced, genial man with an infectious laugh, won converts at every stop.
The story of Tarig's arrival in Canada, a genuine tale of a stranger landing in a strange land, made headlines and even became a national news item on CTV's W5. Arriving at Montreal's Mirabel airport with only the clothes
on his back and $10 in his pocket, he was walking to the city centre when he was picked up by a pair of Haitians who took him to a downtown African nightclub. There, the owner gave him a meal and put him on the train to Toronto, where he was taken in by the Ethiopian community. After a series of jobs washing cars and sweeping floors, Tarig formed the Afronubians and the band made its debut on October 9, 1992 in a small Toronto club.
I was lucky to catch a performance of the group just three months later at an Eritrean restaurant in the city's west end. I was stunned by what I heard. "Imagine a North American band that performs rockabilly, r&b and speed metal—and plays it all well," I wrote in eye magazine. "Sounds pretty far-fetched, right? Well, in an African context, that's exactly what the Afronubians are doing." I was floored by how smoothly the band shifted from Zairean soukous to Sudanese funk and Caribbean reggae before moving back to a Kanda Bongo Man cover and then a Virunga classic. Few groups would attempt such dizzying eclecticism—let alone pull it off so seamlessly. But Tarig later revealed to me the Afronubians' secret: a powerful 6/8 rhythm that held the band together like Superglue.
In Ghana, Tarig explained, the 6/8 rhythm is known as agbadja, while in Kenya it's a traditional dance called chaka cha. He added that the same rhythm that goes by the name kabebey in Somalia is referred to as tom tom in Sudan. "The Afronubians represent the unity of Africa," Tarig told me. "We want to satisfy every African who comes to hear us. But we also want to introduce others to the many different styles of African music. That's the other part of our mission."
Touring Canada in a second-hand van may be old hat to rock bands, but in the mid-1990s it was still a novelty for an African group to journey across the country—especially in a converted ambulance. Not since the early '90s tours by Native Spirit, a highlife band briefly based in Toronto, had an African band in Canada even attempted the western trek. Tarig, who took part in those pioneering trips as a sideman in Native Spirit, braved fierce prairie winds, blinding Rocky Mountain snowstorms and some redneck attitudes again when he and the Afronubians conducted a 20-date tour of Western Canada in early 1995. During that tour, the affable saxophonist recounted a culture clash that occurred in Smithers, British Columbia, where he and the band performed and later went downhill skiing for the first time.
"The locals hadn't seen black people ski before," Tarig said at the time. "Everyone was staring. But in the end, they learned something about African music and we learned something about winter sport." That winter tour paid dividends, leading to a full summer tour of music festivals that year and an ambulance-load of sales of Tour to Africa, the Afronubians' debut CD. By the time Tarig and the group returned to Toronto, they'd been transformed into seasoned road warriors. "We've become much tighter from touring," Tarig said then. "And I feel my singing is stronger. That's what being on the road does." The experience became evident on the release later that year of the band's second CD, The Great Africans. Featuring a warmer, more organic sound, the album revealed how much Tarig and the Afronubians had grown musically.
Tarig returned to Sudan in 1996, his first trip back home since emigrating to Canada. The trip had deepened his resolve not only to promote African music, but to convey a message of racial and religious harmony. Despite a happy family reunion and a hero's welcome (including extensive coverage in Khartoum's daily newspaper of his Canadian success), Tarig had witnessed starvation and a racially-driven civil war. Tarig's journey home gave rise to more thoughtful songs on Hobey Laik, the band's third CD. When the Afronubians performed that summer, Tarig and the group were able to draw on an impressive body of work that comprised everything from Sudanese ballad laments, joyous Ghanaian highlife, spiritually-tinged reggae and effervescent, dance-floor-filling soukous. A renewed confidence combined with Tarig's unwavering optimism characterized all of his performances, right up to his tragic death in a Khartoum car accident in early 1998.
Perhaps Tarig was destined to become a genre-blending musical ambassador. He was born in Madani, a "village of musicians" east of Khartoum. He studied at the Music Institute in Omdadurman, where the Blue and White Nile Rivers meet—the very crossroads of African and Arabic culture. It's the home of the popular Dem Band, in which a teenage Tarig apprenticed, and the place that produced pop star Abdel Aziz el Mubarak. After leaving Sudan, Tarig played for two years in Egypt with Ali Hassan (Walk Like a Nubian) Kuban. And when he first arrived in Toronto, he became immersed in reggae while working with Jamaican legend and Sattalites founder Jojo Bennett at the Jah Studio.
Eclecticism can heard all over the stirring live recordings featured on this CD. The performance at Toronto's Bamboo club, delivered on the eve of the Afronubians' first Western Canadian tour, included Ghanaians Kofi Ackah and Joseph Ashong, Kenyan Adam "Professor" Solomon, Canadians Joe Szilagy, Bruno Hedman and Sarah McElcheran and Egyptian-Sudanese brothers Wail Amin and Mohamed "Mo" Hag el Amin. The songs are taken from The Great Africans. The band lineup at Afrofest was equally diverse, with Ghanaian Pa Joe, Americans Jim Heineman and Mahindi Masai and Kenyan Altaf "Bwana Moto" Vellani joining Szilagy and Hedman on songs from both Tour to Africa and Hobey Laik.
It didn't matter what style the group was playing, or whether Tarig's singing was in English or Arabic, he and the band always managed to hook the listener in with their joyous, percolating Pan-African groove. That was the Afronubians' magic—and Tarig's everlasting legacy.
Nicholas Jennings

Throughout the 1990s, Nicholas Jennings wrote regularly about African music for the Toronto Star and eye weekly magazine, where his weekly Global Groove column appeared. He was also the founding editor of the Music Africa newsletter, Drum