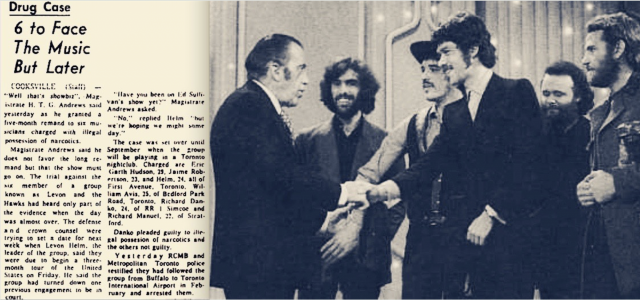 In early 1965, Toronto's Levon & the Hawks were having a hard time with the law. Levon Helm, Robbie Robertson, Garth Hudson, Rick Danko and Richard Manuel, along with their road manager Bill Avis, were charged with possession of marijuana, after being arrested at Toronto's airport by RCMP officers. With bail set at $10,000 apiece and a court case likely to drag on for months, the pot bust threatened to detrail the momentum of the group that would soon become world famous as the Band.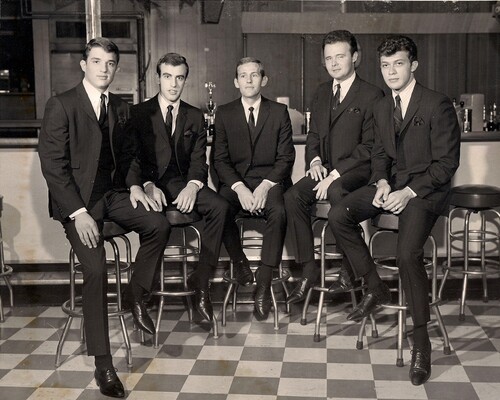 The charges were all a set up. A jealous boyfriend of a girl Danko was seeing told the cops that the group was smuggling in a trunkful of pot into Canada. In fact, Danko had an ounce of Panama Red in his jacket pocket. But, with the risk of Levon & the Hawks facing serious prison time, something extraordinary needed to be done. Helm came up with a move right out of a Cold War thriller: he arranged for Cathy Smith, a sometime girlfriend of his, to seduce one of the arresting officers. In a Toronto lakeshore motel, the seventeen-year-old gave the cop a blowjob--then promptly told him she was only fourteen. Freaked at the thought of jailbait, the cop, one of the chief witnesses in the case, fled.
Ultimately, Danko was given just a one-year suspended sentence on probation, while charges against everyone else were dropped. During one of the many court appearances, Helm had to provide the judge with details about the group's upcoming U.S. tour schedule. "Have you been on Ed Sullivan's show yet?" the judge asked. "No," Helm replied, "but we're hoping we might some day."
It turned out to be more than just wishful thinking. On Novmber 2, 1969, Levon & the Hawks--now known as the Band--appeared on The Ed Sullivan Show, performing a triumphant version of its hit song "Up On Cripple Creek." By then, the nightmare of the drug bust four years earlier had faded into a distant memory. Click on the link below to see the performance.
Adapted from Before the Gold Rush: Flashbacks to the Dawn of the Canadian Sound