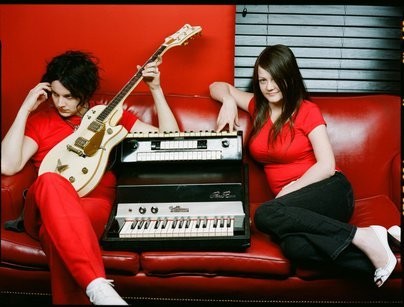 Mention the White Stripes and most people think of garage-rock revival groups like the Strokes and the Hives. True, the Detroit duo does owe something to the raw, three-chord tradition of 1960s' classics like "Louie Louie" and "Wild Thing." But the group's tastes run much deeper, all the way back to blues artists like Son House and Blind Willie McTell, prompting some critics to describe them as a mutant blues band. Fact is, singer-guitarist Jack White and his ex-wife drummer Meg White are art-rockers—not of the King Crimson variety, but of the modernist aesthetic sort. From their name, taken from the peppermint candy and symbolizing childhood and innocence, to their use of simple musical forms, the White Stripes have crafted a minimalist image and cleverly found a way to do more with less. They've shown the music world how much noise just two people can make while watching their arty sensibility turn, very quickly, into a highly commercial commodity.
It's been only four years since the White Stripes released their self-titled debut album—and only two since the release of their third album, White Blood Cells, recorded for just $4,000, catapulted them to fame. But all of that pales next to the massive acclaim that greeted 2003's Elephant, which topped many year-end polls, sold more than a million copies and earned Grammy nominations for Album of the Year and Best Alternative Album while the stomping single "Seven Nation Army" was nominated for Best Rock Song and Best Rock Performance by a Duo or Group with a Vocal. Oh yeah, and they've also been credited with saving rock 'n' roll. Not bad for a couple of underground do-it-yourselfers from the Motor City.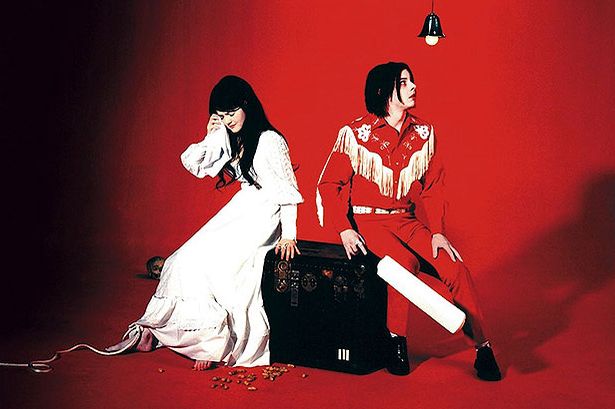 Jack's and Meg's color-coordinated image and stripped-down sound have contributed in a large way to the duo's iconic status—much to their surprise and chagrin. "We never aspired to this level of attention," said Jack, when an appearance at the glitzy MTV Movie Awards at the Shrine Auditorium in Los Angeles placed him and Meg in the unusual company of Eminem and Ozzy Osbourne's odd family. But if fame brings about strange bedfellows, it also means having to come to terms with creature comforts and dizzying adulation. "I don't want to be satisfied," Jack admitted recently. "I'm so scared to enjoy anything about what we do. It's not like a Kurt Cobain thing, where I hate fame. But when your idols are telling you that they love what you're doing—like, Bob Dylan sent down word that he's a fan—what do you do with that?" He added: "It's really hard to understand what you should think about that sort of thing."
The two Detroit scenesters are not being disingenuous either. From the beginning, they both have placed more importance on indie credibility than fame. Jack (born Jack Gillis) had worked as an upholsterer and played drums in the Detroit country outfit Goober & the Peas before switching to guitar. And he embraced his hometown's musical traditions, especially singular rock bands like the Stooges and MC5. After marrying Megan (Meg) White in 1996, Jack took Meg's last name, introduced her to the drum kit and formed the White Stripes the next year. They then gained a national following after two successive tours with indie rockers Pavement and Sleater-Kinney. Jack and Meg divorced in 2000 and, for reasons best known to each other, began calling themselves brother and sister, fooling magazines from Rolling Stone to The New Yorker. In retrospect, the sibling ruse was perhaps an attempt on the duo's part to exert some control over the hype descending on them. Both Jack and Meg have lamented the lack of "mystery" in their media-saturated world.
Significantly, the White Stripes called their second album De Stijl, after the early 20th century Dutch art movement. One of its best known artists, Gerrit Rietveld, created iconic works like the Red and Blue Chair, which promoted the movement's principles of simple designs, primary colors and reducing objects to their essential form. The White Stripes followed suit, adopting red and white as their color scheme and reducing the standard rock band line-up to just guitar, drums and, infamously, no bass. Even the bass-sounding riff on Elephant's "Seven Nation Army," which has become as popular as a soccer chant (witness the crowd at the White Stripes' MuchMusic appearance last November), is actually just his guitar played through an octave-divider.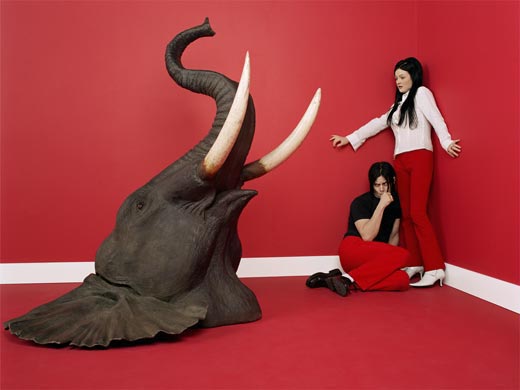 Wearing simplicity on their sleeves, Jack and Meg recorded Elephant entirely on pre-1963 analog equipment at London's Toe Rag Studio. "It's just a couple of rooms in an old warehouse that the owner and engineer, Liam Watson, rented out to set up his whole studio," Jack explained. "It's very much like an English 'beat' studio from the ''60s. Liam wears a white lab coat. It's not like an L.A. studio, where it's nicely carpeted and warm, with a cappuccino machine and video games between takes. It was freezing. I liked that, because it forced us to concentrate on what we were doing." The album's liner notes proudly note that "no computers were used during the writing, recording, mixing or mastering of this record" (apart from that octave-divider, that is).
Contradictions crop up in any modern interpretation of an "authentic" tradition. But give Jack White credit for trying to revive early Americana at a time when American culture itself has gone the way of the Roman Empire. His love of blues, country and folk, fused with his taste for punk and rock (and all of it pouring out of his cheap, fuzzed-out guitar), seems genuine. He appears to want to nothing more than to join the lineage of storytellers and songwriters from Robert Johnson to Bob Dylan and share that tradition with his audience. "If we can trick 15-year-old girls into singing the lyrics to a Son House song," said Jack, "we've really achieved something."
Last year, Jack copped the dream acting gig of his life, appearing in Anthony Minghella's civil-war movie Cold Mountain, alongside Nicole Kidman and his sometime girlfriend Renee Zellweger. In it, he gets to play a period musician, performing a mix of traditional folk and blues numbers, including Howlin' Wolf's "Sittin' on Top of the World." It's Jack's second appearance in a movie. Both he and Meg played themselves in Jim Jarmusch's yet-to-be-released Coffee and Cigarettes, which also features Iggy Pop, Tom Waits, Bill Murray and the two guys from Wu-Tang Clan. Not so successful, at least from the White Stripes' point of view, was filmmaker Sofia Coppola's video for their cover of Burt Bacharach's "I Just Don't Know What to Do With Myself." It features supermodel Kate Moss pole-dancing like a stripper. Jack worries that it insults Bacharach and insists that the video, made for a European release, won't be shown in North America.
The challenges of staying real become more daunting as the White Stripes' fame swirls ever more wildly out of control. Still, the former husband-and-wife team is doing everything possible to thwart the celebrity spin cycle, from refusing autographs to posting footage of Jack's surgery on his finger (broken last year in a car crash) on the band's website. Said Jack: "I thought it was an interesting statement about this sort of invasion of celebrity and reality television—something like MTV Cribs, where celebrities bring you into their home and show you their bathrooms and bedrooms and all that. I thought, I'm going to bring you inside my body. I think it's good to go to the extreme to show how foolish small things are."
As the White Stripes look ahead to their next recording (Jack has meanwhile produced and arranged an album for country legend Loretta Lynn), there are bound to be countless pressures to be faced and temptations to be resisted, like the reported $1 million offer from the Gap to promote blue jeans. "I've said no more times in the last year than in my whole life," says Jack. "There's been tons of things: beer commercials, video-game scores and movie soundtracks—it never stops." He added: "It starts to get really weird when these money amounts, they start adding up in your brain, you're like, 'This is disgusting.' I mean, I can't believe these corporations are like, 'O.K., what's the hip new band? Yeah, White Stripes, let's get them on the commercial. Give 'em a million dollars.'" At which point, Jack's usually silent sidekick, Meg, pipes in: "It just takes constant vigilance to know what you should do and what you shouldn't. Some things are really obvious. It takes a lot of thought to decide what you should do and what you shouldn't do and still maintain some kind of respect for yourself."
Respectability. Credibility. Authenticity. These are admirable values for anyone, let alone two of the newest members of rock royalty. For Jack and Meg, it comes with their aesthetic turf—as much a part of their art-rock persona as wearing red, white and black. Let's hope they can hang on to those qualities, as fame carries them ever further from their humble indie roots.