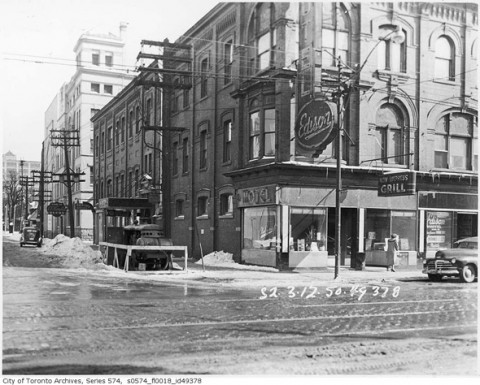 From Heritage Toronto
335 Yonge Street (The Empress Hotel) Destroyed by Fire
January 4, 2011 - 12:30pm
How can we better protect our heritage?
The Empress Hotel at 335 Yonge Street was destroyed yesterday in an early morning fire. Located on the southeast corner of Yonge Street and Gould Street, the Empress Hotel (1888) is a three-storey commercial building. The property was included on the City of Toronto's Inventory of Heritage Properties in 1974, and was designated last year under the Ontario Heritage Act in response to a demolition application.
From the Intent to Designate Report: "The Empress Hotel has design value as a well-crafted example of a late 19th century commercial building that blends elements of the popular Second Empire and Romanesque Revival styles of the era. The distinctive corner tower with a classically detailed mansard roof from Second Empire styling is combined with the monumental round-arched openings that typify the Romanesque Revival style in a carefully crafted composition designed to enhance the presence of the building on Toronto's most prominent commercial street.
Contextually, the Empress Hotel is a local landmark on the southeast corner of Yonge Street and
Now available: This Beat Goes On DVD. This Beat Goes On tells the story of Canadian music in the 1970s, a ground-breaking era of great sounds, from glam and progressive rock to punk and reggae. Set in the formative years of Canada's music industry, This Beat Goes On offers a jukebox full of chart-topping songs from, from Gordon Lightfoot's "Sundown" and Burton Cummings' "Stand Tall" to Trooper's "Raise a Little Hell" and Loverboy's "Turn Me Loose." Mixing archival footage with candid interviews, the documentary features proven hitmakers like Anne Murray, Neil Young and The Guess Who as well as a wealth of new folksingers, blues artists and mullet-rockers. Solo artists like Joni Mitchell and ...
Now available: Rise Up DVD. Rise Up looks at the digital age of Canadian music in the 1980s, a visual era of big hair and shoulder pads, when music videos helped homegrown artists to take off internationally. America's MTV and Canada's MuchMusic provide launching pads for artists as varied as Triumph, Bruce Cockburn, Chilliwack, Jane Siberry, Men Without Hats and Bryan Adams. Blending illuminating interviews with thrilling concert footage and videos, including Rush's "Tom Sawyer," 54-40's "I Go Blind," Blue Rodeo's "Try" and k.d. lang's "Hanky Panky," Rise Up takes viewers on a thrilling ride into the decade's pop stratosphere. Along with such telegenic performers as Gowan and Dalbello, the ...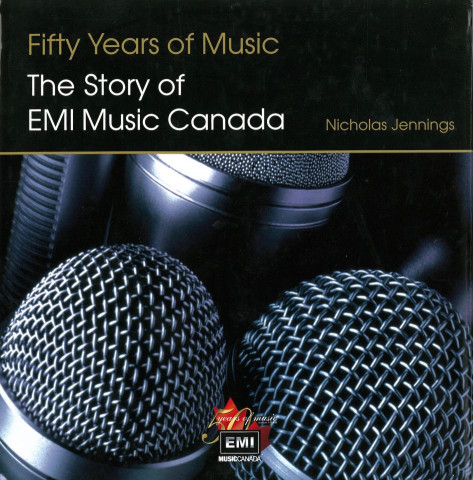 Details : Author: Nicholas Jennings; Hardcover: 168 pages; Publisher: Macmillan Canada; 2000, Language: English; ISBN 0771576641 Book Description from Amazon In fifty years, EMI Music Canada has grown from a local distributor for Capitol Records into a major player in our music industry. While ensuring that Canadian music-lovers could get the latest Frank Sinatra release (and later The Beatles), EMI staff also began to visit local music scenes across the country to find and promote homegrown talent. From The Esquires and Gisele Mackenzie to Anne Murray, Glass Tiger, Tom Cochrane and Susan Aglukark, EMI has championed Canadian musicians and singers and brought them to the attention of both na...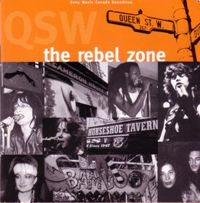 Toronto's Queen Street, the portion running west from stately University to cosmopolitan Spadina, was originally a jumble of greasy spoons, barbershops and clothing stores. Owners lived above their shops, while children played on sidewalks. There were even a couple of watering holes that supplied the mostly Irish, Jewish and Eastern European locals with cold, cheap draft beer. By the late 1970s, those bars had become part of a fertile breeding ground, a creative hothouse of forceful protest, stylish adventure and uninhibited experimentation that produced an explosion of musical talent. In many ways, it paralleled the city's fabled Yorkville scene of the previous decade, with a tight concentration of clubs that served as a launching pad for a generation of future stars.
The catalyst for change was the nearby Ontario College of Art. Drawn by the lure of affordable housing and restaurants serving inexpensive meals, students from the college began moving into the area, rubbing shoulders with the district's working-class denizens. Soon, artist-run galleries, theatres and other performance spaces sprang up, while music quickly took over the taverns and the illegal, after-hours clubs that surreptitiously opened