From Heritage Toronto
335 Yonge Street (The Empress Hotel) Destroyed by Fire
January 4, 2011 - 12:30pm
How can we better protect our heritage?
The Empress Hotel at 335 Yonge Street was destroyed yesterday in an early morning fire. Located on the southeast corner of Yonge Street and Gould Street, the Empress Hotel (1888) is a three-storey commercial building. The property was included on the City of Toronto's Inventory of Heritage Properties in 1974, and was designated last year under the Ontario Heritage Act in response to a demolition application.
From the Intent to Designate Report: "The Empress Hotel has design value as a well-crafted example of a late 19th century commercial building that blends elements of the popular Second Empire and Romanesque Revival styles of the era. The distinctive corner tower with a classically detailed mansard roof from Second Empire styling is combined with the monumental round-arched openings that typify the Romanesque Revival style in a carefully crafted composition designed to enhance the presence of the building on Toronto's most prominent commercial street.
Contextually, the Empress Hotel is a local landmark on the southeast corner of Yonge Street and
I was proud to present The Sadies at the 2010 Polaris Music Prize gala on September 21 at Toronto's historic Masonic Temple, where the group was short-listed for its stellar album Darker Circles. Here is my introduction to the band: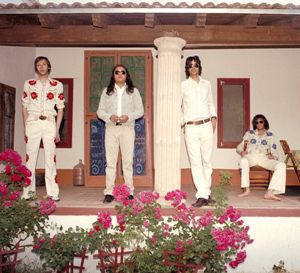 The Sadies. Guitar-slinging brothers Dallas and Travis Good, bassist Sean Dean and drummer Mike Belitsky. Artists—from Gord Downie and Neko Case to John Doe and Neil Young—are unanimous in their praise of these guys.

Critics, however, can't seem to agree on how to describe the band. Are they alt-country mavericks or garage-rock
Polaris Music Prize 2010Here are my Short List choices for this year's prize, in alphabetical order:* Bahamas - Pink Strat (Toronto) website Bahamas* Amelia Curran - Hunter Hunter (Halifax)website Amelia Curran* Radio Radio - Belmundo Regal (Montreal)website Radio Radio* The Sadies - Darker Circles (Toronto)website The Sadies* Yukon Blonde - Yukon Blonde (Vancouver)website Yukon BlondeAll of these candidates are excellent albums--check them out.The Short List finalists will be announced July 6 and this year's winner will be proclaimed at the Polaris gala on September 20.Look for a new Polaris Music Prize Player on this site soon.