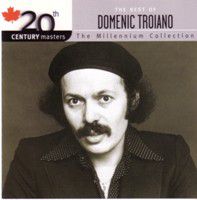 Guitar gods are usually pretty one-dimensional: masters of fretwork, they can be counted on for outrageous riffs and awesome solos, but rarely deliver quality songwriting or strong leadership. Domenic Troiano is a major exception. The consummate musician's musician, he has written superb songs and fronted numerous bands—all the while contributing dazzling, distinctive guitar work.
Over the course of his 40-year career, Troiano has also been highly prolific. In one seven-year period in the 1970s, he released five solo recordings and four band albums as a full-fledged member of the James Gang and the Guess Who. During this time, he also lent his unique guitar work to albums by Joe Cocker, David Clayton-Thomas, Diana Ross, Ronnie Hawkins and Donald Fagen, among others.
Such is the depth of Troiano's musical genius that he has been able to fill the shoes of several legendary guitarists over the years, replacing Robbie Robertson in Ronnie Hawkins' backing band and Joe Walsh in the James Gang, before helping to fill the void in the Guess Who left by Randy Bachman's departure. In 1996, Troiano's significant contributions were recognized when he was inducted in the Canadian Music Hall of Fame.
Born in Modugno, Italy, Troiano immigrated with his family to Canada as a boy and by high school had established himself in Toronto's burgeoning